It's once again time to roam the frozen streets in search of performative emancipation.
To keep you energized, here's a randomized list of edibles available between 7 pm to 3 am.
Spontaneity is key here – so when it comes to Nuit Blanche food in 2015, pick what you like in the heat of the moment.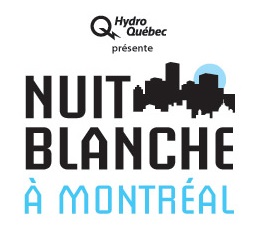 In no order whatsoever (because Nuit Blanche is all about spontaneity), here are 10 eatable, drinkable temptations to drop into your itinerary:
1) Well, fine, maybe you're the linear type. If you want a basic starting point, pay hommage to the Swiss theme of this year's Montréal en Lumière fine dining program and warm up with some mouth-burning FONDUE. Other than the severely lactose-intolerant and this guy, who can, POSSIBLY, SAY NO TO FONDUE? What's more, you'll start your night off at the base of all activities: Place des Arts. –> Until 3 a.m.
2) Next, as the world is caving in all around us, why not pay tribute in an ironic way to the oil sands with a fracking-themed cocktail? Half-awareness tactic, half (hopefully) innovative gustatory delight, the Maison du développement durable has you covered with various edible "curiosités de pétrole." –> Until 2 a.m.
3) Though not technically a food event, the Salon du Livre Gourmand makes use of the BaNQ's always well-curated exhibition space, and this year the theme is feasting. Is this free feast for your mind's eye worth it? Why, that's alimentary, my dear Child!  –> Until 11 p.m.
4) Over in the Plateau, the cuvée d'hiver promises a ton of spiritual uplifting, from whisky to microbrews. Try a few bites at this event at the Église Saint-Enfant Jésus and catch some rock'n'roll – with electro-swing? Huh? anyway… Let me know when you get there!) –> Until 2 a.m.
5) Some people spend decades trying to get their name in lights. For $2, get can get your name in chocolate. –> Until 1 a.m.
6) Le "Snow Food" is all about exploring the modes of outdoor eating. A special version of the Food-Truck-Fridays at Parc Olympique, this polar extravaganza by the Association des restaurateurs de rue du Québec is a sure bet, and a good way to get out east to check out the art of the Pôle Parc Olympique. –> Until 1 a.m.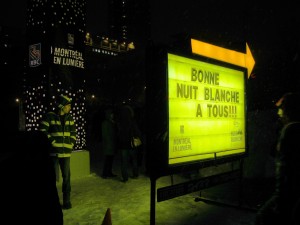 7) Over at Artexte's exhibits, you can get free hot choco while they're still open. –> Until midnight.
8) Another polar menu is offered over in Parc Lafontaine by the quaint Éspace Lafontaine. Chef Martin Bérubé's QC-focused goods feature polar salmon, something called "crispy storm" and a Qweebek Turkey kebab (not a Turkish one…get it?) Beers and wines on offer, too. –> Until midnight.
9) Similar to last year at the Montréal Museum of Fine Arts, you can check out candies and mulled wine – though this year while you're perusing the exhibits of the Musée d'art contemporain. –> Until 2 a.m.
10) Finally, in the spirit of pure conjecture and blatant prejudice on my part, try out the Belgo building, which I love on Nuit Blanche, and whose art purveyors usually tack together some wacky snackbar, and maybe a dance party or disco as an added bonus. One never knows where your frozen-on-the-outside, sweaty-on-the-inside feet will lead you.
11) A user-generated "bonus" option where you help us fill our pages! Found your own tasty stop? Let us know: @ForgetTheBox or @JoshDavidson.
P.S.: we're also going to be live-tweeting (until we get too cold, too lost, or too drunk), so keep us informed of your best discoveries all night long for some sweet, satiating retweets!