In Montreal this year, gentrification was on a bit of a rampage. It claimed the Cock n'Bull Pub back in August and while this legendary drinkery has plans to re-open soon in a new location, the old spot is still quite a loss. Another loss on the horizon, sadly, is Le Medley.
One attempt to offer an alternative to this beast of boring was shut down rather quickly when Montreal police forcibly shut down the Autonomous Social Centre. This community-based cooperative arts and culture centre built in an abandoned Pointe-St-Charles factory was raided before it could even have an opening party.
One group fighting against gentrification in the form of a colossal office tower proposed as the centerpiece of the Quartier des Spectacles (entertainment district) are the artists of Café Cleopatre. Along with their supporters, they took their case against the city-backed developer's plans to the Office de Consultation Publique (OCPM) who sided with them.
Despite this ruling in their favor, revelations about Angus Development head Christian Yaccarini's criminal past, the surfacing of an email showing the developer's true intentions, members of the coalition speaking out in the city council, benefit shows, public support for the artists and even an attempt to get Prince Charles on board, Mayor Gerald Tremblay is still committed to pushing through his handpicked developer's plan.
Now, Café Cleopatre is taking Tremblay and Yaccarini to court. This won't be the only court challenge the mayor is facing. This was an election year and corruption on the part of Tremblay (and to a lesser extent, Louise Harel's right-hand man Benoit Labonte) soon became the focal point of the campaign.
Unfortunately, corruption wasn't enough to unseat Tremblay. Fortunately, there were significant gains for Projet Montreal, a party endorsed by Forget The Box. They swept the Plateau Borough and made significant gains in other places including the former Tremblay fiefdom of NDG and Rosemont to name a few. This is after only eight years of existence and two election campaigns.
Another party that may very well make waves in the years to come is the Pirate Party of Canada. Inspired by the success of Sweden's Pirate Party, they hope to reform Canada's copyright laws and protect both privacy and net neutrality. They hope to do so by influencing the other federal parties.
In federal politics, the Harper government has been all about image control this year. We're not talking about quashing stories about the rise of the NDP or their own dwindling support in Quebec, but rather eliminating potential embarrassment and as a result coming across like a bunch of repressive thugs.
In the run-up to Copenhagen, Greenpeace dropped banners critical of Harper's (and Michael Ignatieff's) environmental stance on the parliament buildings and as a result, anything Greenpeace-related, including t-shirts, were banned from Parliament Hill as a security precaution. Both during and after an embarrassing performance at the Copenhagen Climate Summit, Harper's troops decided to attack Equiterre as well as parody websites put up by US activist pranksters The Yes Men instead of attacking Climate Change.
The Harper government is also ignoring another threat to the environment: the practices of Canadian mining companies around the world. Fortunately, there was some good news on this front in 2009.
For a few years now, the Frente Amplio Opositor in Cerro de San Pedro, Mexico and their supporters in Montreal have been trying to get an illegal mine operated by New Gold (formerly Metallica Resources) shut down. The groups have been working in solidarity with activists against the open-pit practices of Canadian mining companies both around the world and in Canada as well.
In May, under the banner of fake mining company Royal Or, FAO Montreal staked a legitimate claim to mine Mount Royal. This was a theatrical attempt to show what open-pit mining is like for other communities and it resulted, rather unexpectedly, in Mount Royal being officially protected against mining interests.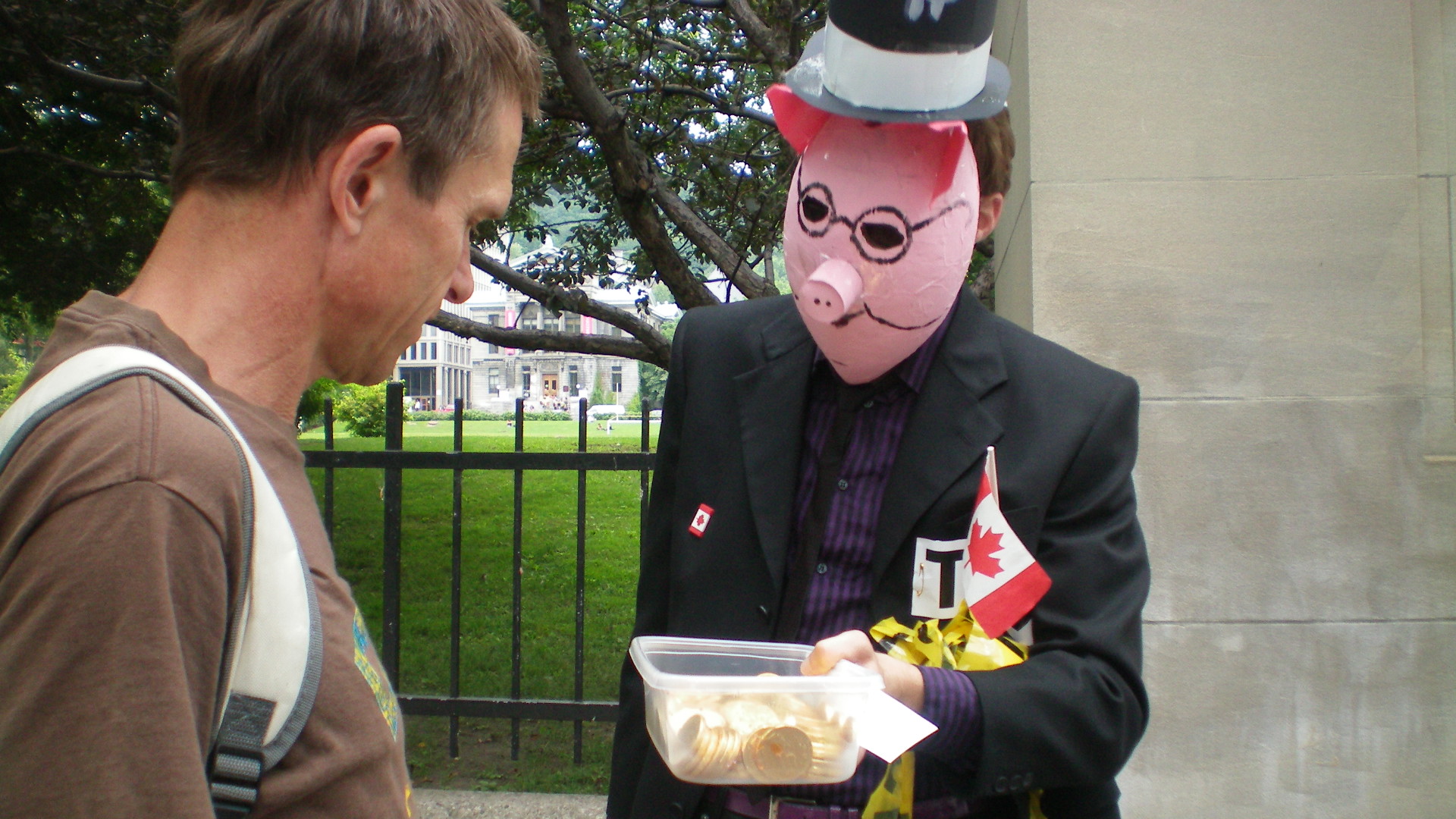 The group used theatre again when they took part in a global day of action against open-pit mining in July. They wanted to show what the real swine flu was with actors playing pigs in front of the Montreal offices of the Toronto Stock Exchange.
In November, the FAO's efforts finally paid off and the mine in Cerro de San Pedro was closed by the Mexican government because it had been (surprise, surprise) operating illegally. There were rumors of initial violence, but they turned out to just be rumors.   Since then, the situation has escalated but it hasn't gotten as bad as the one in El Salvador where activists opposed to Vancouver-based Pacific Rim Mining's attempts to set up a mine have been killed.
Speaking of Vancouver, in case you haven't heard, the Olympics are coming up real soon and resistance to it has been met with considerable repression. From pulling down artwork to questioning American journalists at the border for well over an hour, local, provincial and even the federal government have made it clear that this is one brand they want to protect from damage.
We'll have to wait until 2010 to see how this unfolds and to see what becomes of Café Cleopatre and the other stories we've been covering this year. We also plan to cover quite a bit more and if you want to write for us or take pictures, please get in touch, that is after you take some time to ring in the new year!