Year-in-review pieces traditionally deal with a particular subject in all of its facets as covered by the writer in question. In the case of this writer, though, I didn't have the chance to cover all of the facets of theatre this year in Montreal or elsewhere.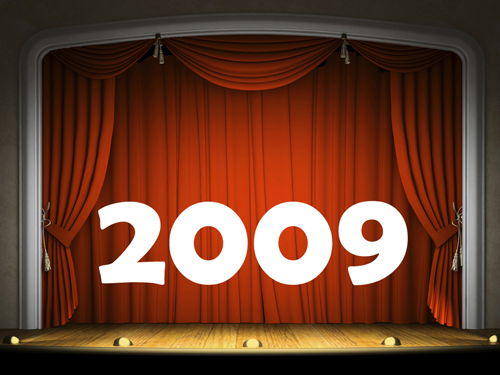 This is due to a few things: I only became a theatre columnist in July, I was busy performing in theatre (and then web-TV) myself and I had quite a few other duties on this site. Excuses, excuses, excuses! Regardless, while my new year's resolution is to get out and see more shows in 2010, there is still some good stuff that I took in this year.
I took my first bite into reviewing when I saw Dracula in a Time of Climate Change (pun fully intended and even a bit forced in this case). It was a fun, fast paced comedy with a conscience, just what I expected from the Blacklist Committee for Unsafe Theatre. Having seen this play in an earlier workshop version, I was surprised with how it developed, but not disappointed.
Dracula in a Time of Climate Change (photo by Susanna Jones)
Then, for a few months, I plunged myself into performing in theatre and helping it (and other art forms) happen behind the scenes. As an organizer for the Montreal infringement Festival, I saw some great shows but was too busy to write about them.
I did have a chance to write about Car Stories, a show I've been part of since 2003. This year, I played in both the Montreal and Buffalo versions. When we brought the show to Buffalo, I had a chance to catch some of the rest of their infringement Festival, which is currently the largest such festival in the world.
I was extremely impressed with how the festival had grown. It is now an event that sticks to its underground roots but involves many people and causes quite a bit of excitement each time it comes around. While there was much more music than anything else this year, the theatre that was there was quite good.
The Hairy Ape (photo by Kurt Schneiderman, Subversive Theatre Collective)
I had a chance to catch The Last White Elephant, a performance piece by Phó Malpica which was staged entirely in a very narrow alleyway in the Allentown neighbourhood. With lighting and just one performer, it really used the space well. I also caught Subversive Theatre's excellent production of The Hairy Ape, which I reviewed.
I got quite busy upon my return and while I did post some of my theories on theatre, reactions to stories and even a review of an older show I saw, I missed some good local shows. One show I would have liked to have seen myself was Olivia. Fortunately, another writer was able to cover it in my place.
As someone interested in politics and activism as well as theatre, when the two or three worlds intersect, it generally peaks my interest. In Montreal, they met a few times this year.
Artists trying to save Café Cleopatre from destruction put on a verbatim theatre performance about their conflict with a developer and the city as part of Contre Courant and brought some theatrics to Prince Charles when he came to town. Meanwhile, in one of the bigger theatre scandals of the year, former Theatre Ste-Catherine boss Eric Amber nearly sparked a language war with a flippant e-mail response to a Francophone theatre troupe. He later apologized then bragged about the press it was generating for him.
Contre Courant (photo by Linda Dawn Hammond)
While municipal politics in Montreal became quite theatrical this year, New York's mayoral race saw performance activist Bill Talen run as the Green Party candidate. He did so in character as Reverend Billy.
So while what I did catch this year impressed me, my New Year's resolution stands. Expect more show coverage from me and others on this site over the next twelve months.
Happy New Year!