Is it over already? Twelve months down and we're (officially) into the second decade of the 21st century. With just four more years to go until we get those flying cars we were promised (holding you to this one, Mr. Zemeckis), it's probably a good time to sit back and nurse that hangover (if you've still got one three days later, that is) and reflect on the year that was.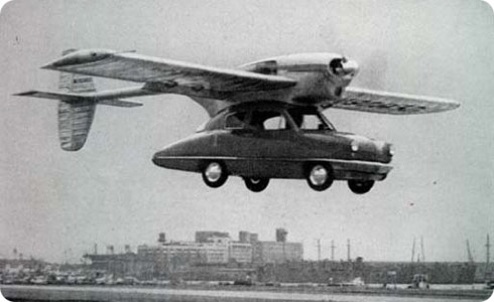 While we can't tell you how 2010 was for you, we can say that for us here at FTB it was a helluva year. Think about it, a year ago we had just started out with a handful of regular writers, some political and arts coverage and big ambitions. Now, we have over 500 posts and eleven regular columns covering everything from sex to the environment to things Laurence doesn't like.
We've also started covering a good portion of the independent music and arts scenes in Montreal and recently Brooklyn, New York, including artists you might not have heard of and festivals you probably have. Meanwhile our sports coverage which began with our unconventional Olympic coverage (the games and the protests) has continued in the form of an unabashedly pro-Habs hockey blog.
We've covered major events like the G20 with reports from the protests and the detention center and analysis of what the talking heads were doing behind the barricades. We've also continued our coverage of local stories like the ongoing saga of Café Cleopatre versus the city.
Some things have stayed the same, though, like our commitment to unconventional coverage and coverage of the unconventional and our year-old tradition of asking our writers for their favourite posts from the past year by themselves and by other writers on the site then compiling them somewhat informally into a list of ten.
So without any further adieu and in no particular order, here's our fifteen favourite posts of the year:
Oh No! Theodore was in my living room: In what is probably the most unconventional post of our POP Montreal coverage, Cassie Doubleday reviews an unofficial living room show by Fredericton, New Brunswick based seven piece Oh No Theodore! as part of an after-hours put on by FTB. In this report, we find out that living room shows are quite the norm out east.
Macs, iPods, iPads, iPhones iRefuse to Conform: In what is probably our most controversial post of the year (among the can't take a joke set), Mike Gwilliam takes a break from talking about video games to rail against all things Mac and in particular their marketing strategy and obsessed Mac users.
Ignorance is bliss: The non-story about the 'Ground Zero Mosque' is Quiet Mike's springboard into this analysis of the ignorance of a large portion of the American electorate and the sad state that leaves the country.
Game 6: Hockey Night in Hipster County: This post from the Montreal Canadiens' improbable playoff run chronicles Jaroslav Halak's astounding 53 saves as the Habs force a game 7 with Washington (which they will go on to win) and shows hockey blogger Cindy Lopez very pleased to admit that her predictions were wrong as she takes in the game at the (at the time dry) Café Romolo.
Mo' Mustaches, Mo' Money The 'stache is sexy: Sex columnist Jessica Klein takes a look at the Movember phenomenon and urges women to sleep with a guy sporting a 'stache. Just doin' her part, I guess.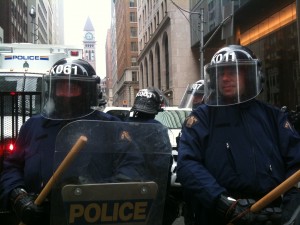 This is what democracy looks like?: Ally Henderson brings us a harrowing tale of being detained illegally for no apparent reason while she peacefully protested the G20 Summit in Toronto. A tale unfortunately too common during the event.
Rich Aucoin interviewed by FTB's Cassie Doubleday: In the first of many video interviews with musicians to come, We Heart Music columnist goes one on one with the originator of funcore and fellow Haligonian Rich Aucoin. The two talk about Rich's music, his charity and much more.
Oh Canada: FUBAR: While she reviews films from all around the world, Stephanie Laughlin definitely has a fondness for Canadian cinema. In fact, she devoted the entire month of July to covering it. Included among this plethora of Canadiana was her review of recent indie darling Fubar, the first one, which we published shortly before the sequel came out.
The whiteness of being green: In this post from late August, columnist Mel Lefebvre takes the time to reflect on why the environmental movement of which she is a part seems sometimes to be the exclusive domain of white people.
Tuesday Night in Williamsburg: This is the first report on the Brooklyn, New York music scene pubished a few months before we got a Brooklyn correspondent and written as part music review, part travel piece from the point of view of Montrealer Jason C. McLean, part of the FTB team that went down to NYC to shoot an episode of JC Sunshine and meet the locals.
JC Sunshine Ep 306: Who Killed Ricardo?: This is by far the most unique JC Sunshine episode and some say the best so far. It's entirely narrative format and film noir style (black and white detective story for the uninformed). While it works very well on its own, there will be some story elements you might not catch if you haven't seen the preceding episodes. So if you have the time, we recommend starting a few episodes back if not at the beginning of season 3…or just jump in and enjoy the ride!
From Montreal to Hell in an Oldsmobile: No news is good news. And this rant contains no news whatsoever. It contains Olds. If that doesn't give you an idea if what to expect in this somewhat disjointed odyssey of a rant by Laurence Tenenbaum, or if it does, read on.
"If we amplify everything we hear nothing!" Jon Stewart tells the 250 000 who gathered at Washington DC's National Mall Saturday: Steve Ferrara makes the trek from Brooklyn to Washington, DC and brings us this report from Jon Stewart and Stephen Colert's Restore Sanity and/or Fear on the National Mall.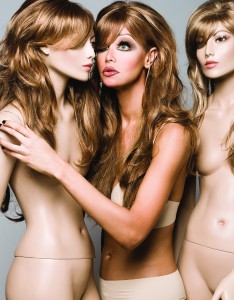 The Silicone Diaries: An intimate encounter with a silicone goddess: Theatre and arts writer Jessica Alley takes us into the world of Canadian transsexual icon Nina Arsenault as she reviews her new play currently on tour.
Postcards from the edge: In this series of images from his Carte Blance column, photographer Hugo Trottier examines ideas that come to us in the middle of the night.
Well, that's how we saw 2010 here on FTB. We've got big plans for 2011 (not as big as flying cars, but way more in your face), so keep checking back and a very happy New Year to everyone from all of us at Forget The Box!