This time of the year, people like to reminisce about the highlights of the previous year.   It's been a stand-up year for sex and I, commencing with a data entry job in the porn industry that opened my eyes up to a whole new set of words and images.   I'll never just see ATM as 'Automated Teller Machine' anymore.
It also marked my transition from stage kitten to burlesque dancer with Glam Gam Productions.   And finally, it featured my first official foray into column writing.   In the new year, you can expect pieces on the genetics of promiscuity, the best and worst stories from the sexual battlefield, a report when I pop my sexuality convention cherry at the "Everything to do with Sex Show".
And now, without further adieu, I bring you some of the weirdest, wildest and wackiest top stories about sex in 2010:
Best reason to try Wii Fit A woman in Manchester claims that an injury sustained while playing Wii Fit turned her into a sex addict via nerve damage causing "persistent sexual arousal syndrome." I knew I wasn't doing it right!
Steamiest On-Screen Sex Scene Suburban MILF-cum-drug dealer Mary-Louise Parker from 'Weeds' getting banged silly by an all-grown up and no longer blond Zach Morris aka Mark-Paul Gosselaar.   Good to see Nancy still likes it rough.   Runner up While I haven't yet seen 'Black Swan' (it's on my list of to-do things for the long weekend), I have had the pleasure of feasting my eyes upon the steamiest display of girl tongue lust in well… ever?   Upon trying to re-watch the clip, I found it had evaporated into 404 not found land, much to chagrin of me and thousands of now-sagging wieners.
My most sexually liberating experience Appearing on stage, completely naked… well, does body paint count?   It only took three nights and twice as many drinks to work up the nerve, but I'm truly glad I indulged the exhibitionist in me that hasn't come out to play since we ran around parks naked as teenagers in the moonlight.
Lease Impressive Celebrity Penis As if this one's a contest at all!   Brett Favre takes the win here.   I guess my penis would feel small too if it shared a locker room with all those Goliath NFL linebackers.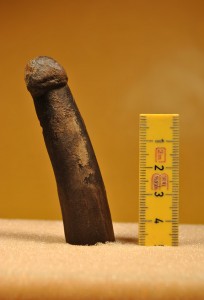 Best Archaeological Find An ancient dildo was unearthed in Sweden this July, in the form of a penis carved out of antler bone.   Scientists were reluctant to confirm whether our ancestors used it just for getting themselves off they suspect it may have been used as a tool to chip flakes of flint.
Best Song To Make Out To Sleigh Bells' 'Rill Rill', a swoon-worthy indie electro pop tune that makes you feel all warm and fuzzy inside as it loops around your brain, much the way a good make-out session causes all the blood to flow to your head.
Strangest New Way To Profit Off Sex Swedish porn mogul Berth Milton Jr plans to open a chain of hotels where guests don't pay to stay, permitting their sex session to be broadcast on the web.   I wonder if they have to sign some sort of contract on how many sessions will occur, for how long, and so on.
Finally, best headline of the year "Sex Boosts Brain Growth, Study Suggests", as seen on Livescience.com.   As if you needed another reason to have more sex next year.
Hope everyone had a very merry XXX-mas and a happy nude year to all!