Recently I had dinner with my friend Alex and as we were enjoying some Korean BBQ the conversation turned, as it often does with Alex and I, to film.
"So, you gonna do a best of the year review for your column?" Alex asked.
"I always do," I replied, watching with childish glee as my salmon cooked on the grill in front of me.
"So what's on your best of list for 2011?" Alex responded in between bites of his bibm bahb.
With that question my eyes immediately wandered from my fish and I found myself stunned when no immediate answers came to mind. Was 2011 really that bad of a year for film?
Upon further reflection and looking through columns of mine from the past year I realized that yes, of course, there are plenty of films that I loved. But unlike other years, I found myself not entirely agreeing with what other critics thought was the best of 2011.
For instance, I was bored to tears with Terrance Mallick's Tree of Life. I know all you film people out there just gasped in horror… I had endless debates about this with my Toronto International Film Festival co-workers this year. Mallick projects are always incredibly beautiful, but like his other projects I found this film incredibly pretentious, and painstaking to watch. I never walk out of films, but for this one I just couldn't bring myself to sit through it to the end.
I did manage to sit through the other big art film this year, Melancholia, but again I also felt this film was incredibly over hyped. My favourite art house film of the year without a doubt was the Ewan McGregor/Christopher Plummer dramedy Beginners. Even with its themes of depression, failed relationships and death there was an incredible sweetness to it.
I enjoyed Alexander Payne's The Descendants, and agree that George Clooney gave an excellent performance. But now that it's awards season, why aren't more people talking about Elizabeth Olsen's performance in Martha Marcy May Marlene? As a young woman who's recently escaped life in a cult, it's one of the best performances I've seen from a young actress in a long time. Props also go out to Deadwood alum John Hawkes for a pitch perfect performance as the creepy as shit cult leader.
Speaking of creepy performances, I also really loved Antonio Banderas in Pedro Almodovar's newest feature, The Skin I live In. In it Banderas plays a doctor who has kidnapped a myserious woman and starts conducting skin experiments on her. Almodovar has long been one of my favourite directors and really has to produce a major flop for his films not to make my best of lists. The Skin I live in is not his all time best, that honour in my mind still goes to All About My Mother. All of Almodovar's films deal with some pretty disturbing and complex issues and from those that I've seen, this is his most disturbing film yet. But it's also undeniably engaging and therefore definitely makes my list of best of the year.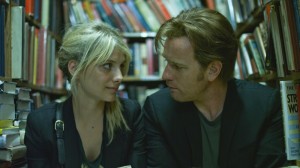 My favourite films of the year weren't all about rapists and dying and creepy cult leaders. On the lighter note, my favourite romantic comedies of the year were Crazy, Stupid, Love and Bridesmaids. Crazy, Stupid Love was a smart, grown up comedy that I found myself really drawn to when compared to all the ridiculous romantic comedies targeted to my age group like No Strings Attached or Friends with Benefits. Seriously, should they call 2011 the year that films were all about commitment free sex? Oh wait of course not, because it being Hollywood, the leads have to get together by the end.
I don't know if I agree with some critics who are pushing for Bridesmaids to get Oscar love. Please don't misunderstand my statement, it's not that I don't think comedies deserve more awards recognition. Call me a purist, but I don't know how I feel about films with poop jokes winning Oscars. That being said, if you haven't seen Bridesmaids yet, get on that because it's a hilarious film.
Another comedy with Oscar buzz that I enjoyed this year was Woody Allen's Midnight in Paris. Just like Almodovar, this is not the auteur's best ever work (with Allen for me it's a tie between Manhattan and Annie Hall) but it's tons of fun and in my opinion an obvious choice for the best of 2011 list.
Now that the year is coming to a close, my thoughts are drawn to the films I'm looking forward to catching in 2012. Perhaps cause I just saw the trailer yesterday, but at this moment The Dark Knight Rises tops my list. Other 2012 films I can't wait for include the Tilda Swildon film We need to talk about Kevin and The Kirsten Stewart/Charlize Theron Snow White project Snow White and the Hunstman (while its rival, Mirror Mirror, looks AWFUL).
On a final note, I just wanted to say that this is officially my last column as writer for Friday Film Review. It's been an amazing two and a half years, but  with the new year comes new beginnings for me at Forget the Box. In 2012 I will be focusing more on adminstrative work for the website, and you can expect reports on me from time to time on fun and interesting events in Montreal, Toronto and beyond. I wish Thomas O'Connor, who officially takes over the column in January, all the best with Friday Film Review. Happy New Year FTB readers!