201
1 was a great year to be a sex columnist… oh who am I kidding, any year is a great year to cover all the things that turn us on, make us wet and get us off!
The best part about writing this column is my in the field work covering sex-related events. This year, I rode a bike naked with about a hundred others for the Midnight Naked Bike Ride, donned a PVC corset and backcombed the shit out of my hair for Montreal Fetish Weekend, and interviewed Ewan Currie, the lead singer of The Sheepdogs backstage at Osheaga, the day before they won the Rolling Stone cover contest. Backstage waiting for the interview to start, I saw one of my musical heroes, Wayne Coyne of the Flaming Lips driving by on a golf cart, I called to him "I love your music!" as he beamed back at me and waved.
In January, photographer Chris Zacchia and I attended the Everything to do with S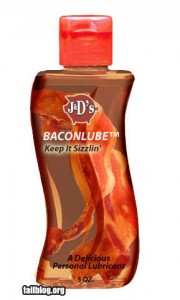 ex Convention at Place Bonaventure, where we shared the fun new game of sex bingo with everyone we met. We made cards filled with silly, scintillating and sexy things we thought we'd find at the convention, and checked them off as we went.
One of the items I sought, "meaty lube", was borne of a dream of bacon lube and thanks to a company called J&D's, is now a reality… because everything should taste like bacon. It was at that very convention that I made the best investment of the year, a high-end pleasure object by the name of Ina. We hit it off right away, even as other toys and dildos tried to vie for my attention, I kept coming back to Ina.
Another highlight of the year was my collaboration with former Friday Film Review columnist Steph Laughlin. She suggested we check out a porno in a theatre together, something neither of us had done before, so we went to the infamous Cinema L'Amour on Couples Night. We knew we'd be witnessing sordid acts on screen, but were a tad shocked to discover they occurred between the pervy patrons when the lights go out. "So ladies, if your idea of a sexy good time is giving head to a slew of random older dudes, head on down to the Cinema L'Amour." This also became my #1 icebreaker story to tell at parties this year.
Sex was constantly breaking headlines this year. In a true demonstration of the power of words, Slutwalks took place across the globe. The one here in Montreal was attended by at least a thousand and made the front page of the Gazette. Bisexual men finally got the recognition they deserved from the research community, and performing oral sex was linked to throat cancer in men via the HPV virus.
I have a few interesting ideas up my sleeve for 2012. I would like to reach out to my readers to find out more about their sexual desires, preferences and habits. Many of my readers have asked me about the places in Montreal where you can get tested for STIs, a topic I would like to cover early in the new year. I'm also planning on examining a few different online dating sites to ascertain who is using which site, with either positive or negative results. Finally, to quench my thirst for new adventures and experiences, I would also like to review some sexy establishments like strip clubs or the only mixed gender sauna in town in Rosemont.