It was Montreal's year to shine as this year as we had another momentous year in the art scene. Whether it was free or paid Forget The Box was on hand to get you all the coverage. This year we not only covered many of the mainstream festivals of the year, we also took in some interesting independent festivals and even some strange and "avant garde" artistic events too.
Music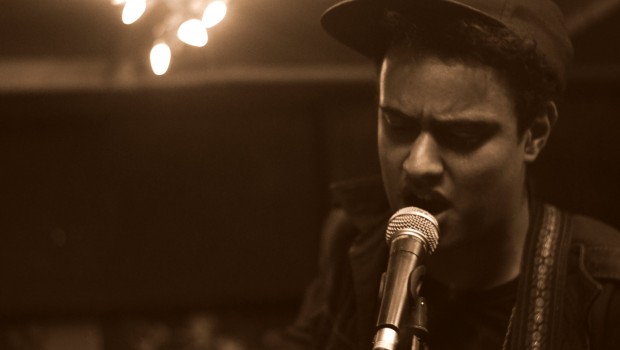 While January is probably not the best month to be caught dancing outside, it still didn't stop Montrealers from cramming into the Old Port by the thousands to attend the outdoor electronic music event known as Igloofest.
In March we hit the road to the first Canadian music festival of the season. It seemed like the whole music scene was descending upon Toronto for Canadian Music Week. This was our second time attending the festival and every year it seems to get bigger – we always have a great time!
In June, intrepid reporter Cassie Doubleday went on a boat cruise during FTB's coverage of North by Northeast. And there was, of course, the incredible Tupperware remix party. This was our second Toronto music festival, and boy did we enjoy covering our sister city's festivals this year!
In early July, Montreal Electronic Groove (MEG) came and filled our ears with viseral electronic sounds and Music contributor Heidy Pinet covered for Forget The Box.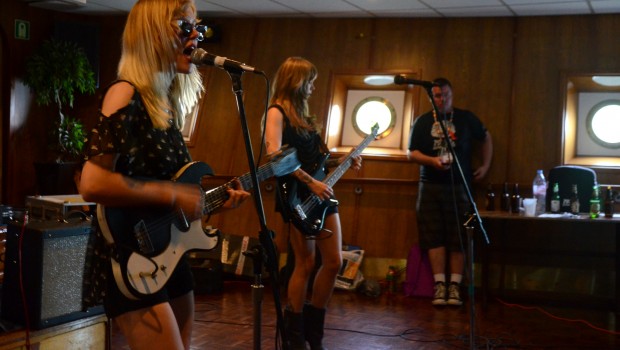 Back to school time meant the return of Pop Montreal, one of the biggest festivals for independent music in Canada. This year we checked out a few shows that blew our proverbial "socks off." Emily Hoge and Pamela Fillion went out daily, reporting back from many of the venues around town.
In December,  Leonard Cohen , patron saint of Montreal, serenaded a hometown crowd with many of his passionate songs of love and hate. It was a dream come true for one FTB writer extraordinaire Dawn McSweeny who caught the whole mystical experience .
Visual Art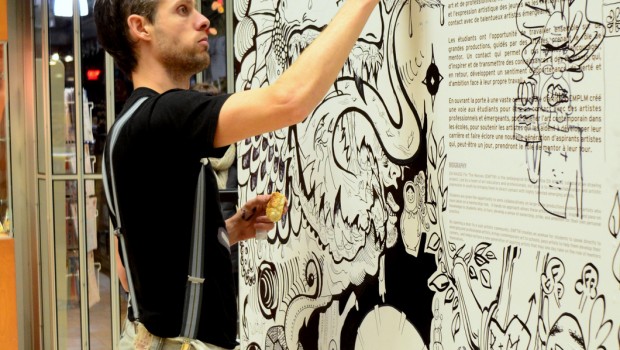 In the midst of the cold and the fury of February there is night when the city goes white and you may warm yourself over a cup of cocoa and rum while spectating free art till the wee hours of the morning….I am of course speaking of Nuit Blacnche. The night when we endure tundra-like conditions of Montreal in the middle of winter for the sake of art.
This year, our nuit blanche coverage included: Gracie Mitchell on all the happenings at Art Matters all around Concordia, Stephanie Laughlin at the monthly storytelling event Confabulation, and I had a chance to check out the freestyle drawings of En Masse  in mid-production and interview  the founder about the collective creative process. That evening there was so many things and do in the winter frost, even penguins were out and about at the biodome.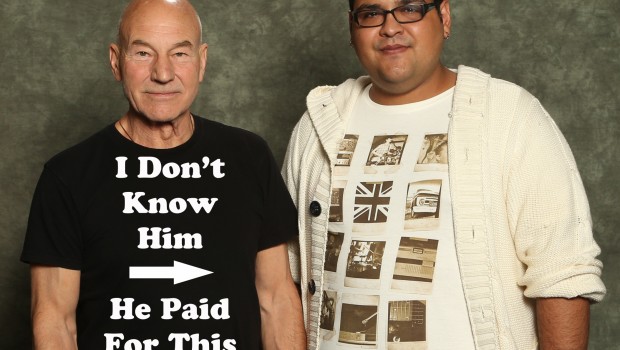 Taymaz Valley, an artist in his own right, joined the site this year as our visual arts critic, offering his thoughts on the arts and artistic movements every week. It's not all gallery stuff, though.Who can forget his adventure through comic book art history at the  Montreal Comicon, through covering all the bases of geek genres he got to meet the Honorable Sir Patrick Stuart (he's been knighted, right?).
2012 may also be the year of affordable art. This year Ker-Pow presented Blood Money 2—a party organized by artists Stef Eerie and Angus Philip Byers. This event was a solid community art show filled with the bar's usual tattooed crowd.
Finally Montreal's independent print media was thriving once again at this years expozine. In its 11th year,  it is Canada's biggest zine fair with over 270 creative independent publications featuring a diverse lot of books, mags, comics, prints, toys and trinkets. Departing with a lot of merch is easy, finding storage space for your collectors' items, that's a whole other problem.
Stage
In April, we caught up with the Blood Ballet Cabaret doing their burlesque tribute to musicals and Glam Gam Productions' Fairy Tale-laden Little Little Beau Peep show. Both troupes showed up again during the summer festival season. That wasn't the only burlesque for us that month. Jessica Alley got transported back to the 8th Century BC when she checked out Arena Burlesque.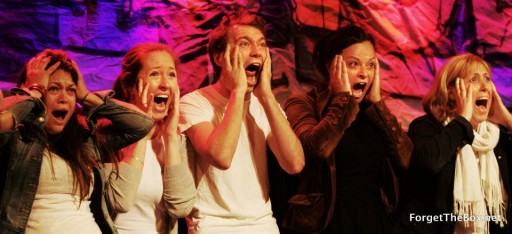 Glam Gam brought last year's If Looks Could Kill…They Will to this year's Montreal Fringe Festival in June, joining many other shows. Stephanie Laughlin and Robyn Dixon checked out as many shows as they could, even one about a Scottish drag queen you might know, named God.
In June, we also caught the activist-inspired Montreal Infringement Festival. Jason C. McLean covered a good chunk of the musical and theatrical happenings in the bars, parks, streets and even alleyways of the Plateau while Tariq Leeroburkhan attended the Smoke n' Mirrors and theatre night at the Fresh Paint Gallery.

Early July, Emily Hoge joined the circus (Circus Festival, that is) for one night and caught Les 7 doigts de la main. Later that month and into August, our team checked out venerable Montreal comedy festival Just For Laughs for the first time and made a repeat visit to its edgier sister festival Zoofest. We saw, among others, the aforementioned Blood Ballet, DeAnne Smith, Amy Schumer and even had a chance to interview hardcore wrestling legend now standup comic Mick Foley.
As for what Stephanie Laughlin did this midsummer: there's really nothing like watching Shakespeare at the Globe Theatre except for maybe sitting on a blanket watching Taming of the Shrew in Westmount Park. She kept classy and caught Guys and Dolls at the Segal Centre in the fall.

Film
FTB film writers Thomas O'Connor and Pamela Filion were all over the festival circuit this year. From Fantasia to the Montreal 60 Second Film Fetsival or M-60 to The Montreal Israel Film Festival, they brought us reports on what they were able to catch from the wide variety they were able to choose from. Meanwhile Stephanie Laughlin wrote about CinemaSpace, showcasing independent film and video from all over Montreal. Thomas O'Connor also listed the best films of the year in his year-in-review piece.
Expect to see many more art show previews and reviews from Forget The Box is the upcoming year. This was 2012 and now it's time to start it all over again.