In the first of periodical (i.e. whenever the hell I feel like it) contests that will be held on this blog, I share my top five favorite Hollywood summer blockbusters and dare you to impress me with yours.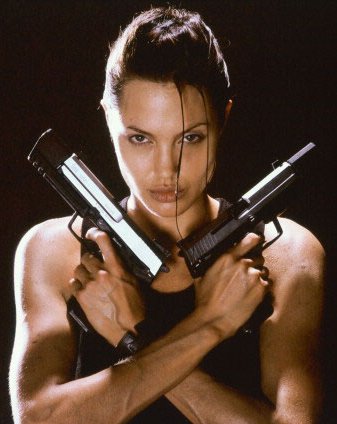 Giant budgets. Impossibly attractive people. And of most of the time completely ridiculous, mindless plots. But who really cares right? With the summer blockbuster, it's all about going along for the ride with that giant tub of popcorn in your lap. Since last weekend was considered the unofficial start to summer I thought it would be fun to share my top five favorite summer blockbusters. Here they are, in no particular order:
Directed by Simon West
Starring Angelina Jolie
Released by Paramount Pictures
(2001) 100 min.
Very high on the ridiculous plot scale this movie completely wins me over with Angelina Jolie as an ass kicking aristocrat who travels the world in search of rare and elusive artifacts. A British/Female version of Indiana Jones if you will, just much cooler and much, much hotter! While the sequel was just plain awful, the original has stood the test of time as a fun action-adventure flick.
2. GHOSTBUSTERS
Directed by Ivan Reitman
Starring Bill Murray, Dan Aykroyd, Harold Ramis, Ernie Hudson
Released by Columbia Pictures
(1984) 105 min.
I could write a whole essay about how much I love this movie but I mean come on, you all get it. It's Ghostbusters!
3. HARRY POTTER AND THE PRISONER OF AZKABAN
Directed by Alfonso Cuarón
Starring Daniel Radcliff, Gary Oldman
Released by Warner Brothers Pictures
(2004) 141 min.
My favorite of the Harry Potter screen adaptations (so far, The Half Blood Prince comes out July 17th). I love how director Alfonso Cuarón made a family franchise film dark and chock full of adolescent sexual tension, while still appealing to a mainstream audience.
Directed by Ben Stiller
Starring Ben Stiller, Robert Downey Jr., Jack Black
Released by Dreamworks Pictures
(2008)107 min.
Zoolander is one of my favorite comedies of all time and so I was eagerly awaiting Ben Stiller's follow up as a director last summer, and was not disappointed. Sure the comedy stretched a little thin in some parts, but it was top notch comedic acting from all of its players especially Jack Black and Robert Downey Jr.
5.   STAR WARS: RETURN OF THE JEDI
Directed by Richard Marquand
Starring Mark Hamill, Carrie Fisher, Harrison Ford
Released by 20th Century Fox
(1983) 134 min.
Ok I struggled hard on this one but Jedi is my favorite Star Wars film (at this moment at least, I reserve the right to change my mind about this in the future). Lea in the gold bikini, ewoks, getting to see the face of Darth Vader and of course the destruction of the empire? Fuck yeah!
Ok Forget the Box readers, now it's your turn; what are your top five favorite Summer Hollywood Blockbusters? You can either post a response in the comment section below or email me at steph@forgetthebox.net. The person with the list I like the best will win the indescribable honor of being mentioned in a future column, and win a special mystery prize!