So Nuit Blanche is upon us once again and you're wondering what to do with your night. Well, we have you covered with over 25 activities and shows not to miss. We've divided this guide up by area to help you plan your night accordingly. Nuit Blanche is very much about art and local artists and the Belgo building and the underground city are the best place to find this. As everything is so close together I'll just cover it briefly and suggest that you should definitely check some stuff out. Wander through or hit up the 4 floors of the Belgo for your art fix either before, during or after checking out some of these great activities
OLYMPIC STADIUM
So I'm going to start my night out here as there are only a few things I want to see and the Olympic Stadium is so far.
1. First stop is dinner at 1st Saturdays. First Saturdays is the time of month that Montreal's Food Trucks gather to offer their fine cuisine on wheels. Come grab a bite and prepare your tummy for the long night ahead!
2. The new Planetarium will be opening this evening for a special Nuit Blanche pre-launch. Come check it out before it officially opens in a few weeks time. (potentially exterior site only)
3. There is also a Who Done It, Murder Mystery at the Biodome. While there is a fee of 12$ this could be fun.
DOWNTOWN
Downtown is a much larger area, but there is shuttle bus service that will be passing regularly to speed you along your way. The Belgo is also in this area so I'll start with that.
4. The Belgo building is one of Montreal's best collections of local artists in one space. There are 4 floors with a dozen different studios and exhibit rooms for you to check out. Of particular note is: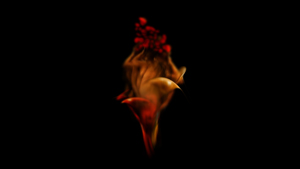 5. Incarnation 3 – Les femmes fleurs which is a series of long exposure photos of women that turns them into beautiful flowers.
6. MAXX HQ en DS is a clothing art thing where they promise to edit/add some fun pieces to your attire!
7. 10, Coconut Beach Drive is a photo exhibit that will help you beat the winter blues. You can get your photo taken and they will add a beach backdrop to remind you of the warmer months.
8. Edgy All Night Long is the begining of the EDGY WOMEN festival which features strong independent women and focuses on the domain of ART, SPORT & GENDER. (Watch for our feature article on the festival in the next few days)
Near the Belgo building there are a bunch of other fun activities.
9. Bouge De La! – For those of you that remember MusicPlus' late night dance party show, it's back! Come dance for a retro good time.
10. Want to eat cake? Bakers at the Carré Confiserie will be building a 10 foot cake and are inviting you to help decorate it. (and then eat it)
11. Herbes dix is an exhibition about herbal plant remedies. If you've got a bit of hippy in you, you'll want to check this out.
12. The Omni hotel will be giving out free cookies & hot chocolate if you happen to pass by.
13. Picollo expresso bar is also doing free tastings if you want a cafein fix.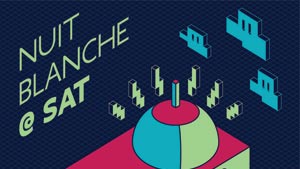 14. The SAT (Société des arts technologiques) is doing a cool 8-bit exhibit with live music, food and installation that is definitely worth checking out. 3 floors of fun!
15. Montreal's Contemporary Art Museum always has cool stuff. If you don't get a chance to go regularly why not take this opportunity.
PLATEAU DE MONTREAL & MILE END
While the Plateau is usually the center of Montreal's art community, it especially is on a night like tonight.
16. Art Matters at the Mainline theatre will be featuring tons and tons of artists each performing super short art, dance & performance pieces.
17. Need a hair cut? Visit Coupe Bizzare for a unique new do!
18. La Cuvée d'hiver – beer tasting is the perfect tasting event to warm your winter evenings. 5$ ish with a reusable cup
19. Jive studio, (rockabilly dancing 2$)
20. The Postcard Project – Sarah Nesbitt's "Postcard Project" invites you to rediscover the joys of social networking "the old fashioned way," using personally designed postcards.
20. Spin and Scratching session (vinyl disc making) – an exhibition of screenprinted vinyl covers by Suzie Smith, and take part in an interactive breakdance performance and drawing session.
OLD PORT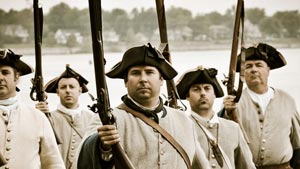 21. Qui Va La? Historivcal re-enaction – This year, the Centre d'histoire de Montréal has invited the Compagnie de Lacorne to garrison the museum. Night owls will learn about the daily life of soldiers in New France and watch troops fire musket salvos in honour of the 10th anniversary of the Nuit blanche.
22. Contes de vers (glass blowing)
23. Like/Comment/subscribe (classic youtube vids)
If you've got more suggestions leave them in the comments below.
And for a guide to help you get the most of the evening check out our Nuit Blanche Survival Guide!
*Top image Esther Gibbons, where.ca