New York's Village Voice put on an excellent free concert called the 4 knots festival last weekend and I was lucky enough to catch a bunch of the events while on vacation in the Empire State.
Held at the bottom pier of the island, located near the heart of the Manhattan financial district by the harbor, the festival displayed many up and coming bands from New York, and a few legends.
I was really looking forward to seeing a few bands in particular, particularly Doldrums, the Crocodiles and Archer of Loaf, who I haven't seen since the nineties. However, waking up early enough on a Saturday while on vacation in New York was a little too difficult. Montreal's own Doldrums started at 1 pm…which  unfortunately is too early for a late night drinker like myself. Well at least I'm honest about it!
Seriously, one of the problems with New York free shows is they start start way, way too early.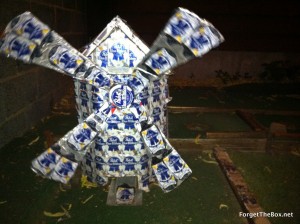 Come on festival people! But honestly, this will teach me to leave early next time I find a bar with a mini golf course that has a Pabst Blue Ribbon windmill on the 3rd hole.
I was, after all, on vacation in New York City. So it was great to hear about fun things to do on a shoestring budget.
And there was a good chance if I could get up early enough I'd make it to see The Crocodiles, a band I've wanted to see in concert for a long time.
As the crowd was waiting patiently for The Crocodiles, the beach balls came out.
I suppose promoters think this will keep crowds mind off frying in the heat while waiting for a band to play. (The delay turned out to be due to a fire behind the stage next to a docked boat. The NYPD and FDNY were called to the scene. And the fire was duly put out.)
I don't know who thinks this is adequate entertainment, but let me tell you, every time a beach ball hits my head by accident, I regret not bringing a pin or a very sharp knife or a jagged edged sword or a chainsaw or anything that will cut thought the cheap plastic. Then I could imagine us engaged in some kind of ritualistic burning, watching the pieces of plastic incinerate right before my eyes. Beautiful.
The Crocodiles, after a half hour delay, got their shit together. Bringing their lovely grungy west coast surf sound starting with their uber grunge pop track Mirrors and later brought on the hits like Sunday. Songs like I Wanna Kill You brought the left side of the crowd into an ecstatic mosh pit frenzy.
Brooklyn's own The Drums played the second set to a rambunctious local mob excited for their unique rendition of fun new york electro pop.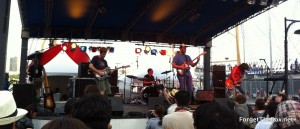 Archers of Loaf, who are recently back on tour after a 12 year hiatus, played a few shows last year after having their back catalog remastered and re-released on Merge Records. It was great to see the boys together again playing all their great hits from the nineties and some new tunes from a soon to be released album.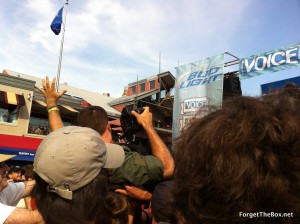 In the absence of a good Montreal weekly since the Mirror's death, it was very cool to see the Village Voice thriving in New York, being one of the most read free papers around the world. Even their photographers got into the mood, body-surfing while taking hot shots.
Once known as the Siren music festival, it was renamed 4 knots and moved to the seaport harbor. Since then it has turned into one of the largest free outdoor shows in New York. It's great to see a city that has such a flourishing free weekly paper able to put on such a spectacular show.
Now if Montreal could only have a free English language weekly…oh well.