The Candyass Cabaret: Shimmies and Showtunes is at the Cafe Cleopatre (1230 boul St-Laurent, 2nd floor) this Friday November 18th, doors at 9pm show at 10pm. It features burlesque, drag and other theatrical entertainment. $10 at the door. I will be there with my fellow performers naked for the world to see.
I have been active with the Buffalo Infringement Festival and was very inspired to go to the Infringe Mecca of Montreal to see where it all began. Two years ago, Fifi Laflea and I made the trip for the Montreal Infringement Festival and we had no idea the honor it would be to perform with the Candyass Caberet at the historic Cafe Cleopatre.
Being in the dressing room even felt special. I wondered what incredible creatures from times past got ready in front of these very mirrors? I truly cannot believe that special place was almost a thing of the past.
In a world over saturated with sex it is a challenge to truly titilate someone with art. Burlesque is my life. It is an old tradition of theatrical bawdiness with blatant political intentions.
A major highlight of my career was a the 2014 Montreal Infringement Festival where (dressed in horrible white trash drag) I pulled several American flags out of a very large glittery plushy penis to the song "America, F*ck Yeah!" during that Candyass show, with Fifi Laflea as my beautiful assistant. It was definitely a statement about how the rest of the world views Americans and our culture of waste and over privilege.
It is even more important now to be a sort of cultural ambassador with my art due to the election of that pompous Cheeto nightmare. I have a responsibility to show the world that not all Americans are like him, not all of us support hate, most of us are scared, we are angry. We are going to speak out and stand up. Art is the first line.
I asked Velma Candyass, world renowned burlesque performer, a few questions. She is also one of the ringleaders that helped to save the Cafe Cleopatre from demolition. She also does incredible tours of the Montreal Red Light District with Donovan King, and runs her own burlesque troupe The Dead Doll Dancers. She is an absolutely incredible performer, a super babe, my burlesque crush, and a total sweetheart.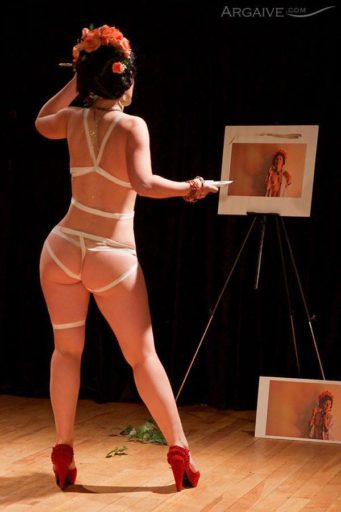 Wow, I am very impressed that this is the 50th show! How do you feel about 50 Candyass Caberet shows?
Im shocked at having produced this much under the Candyass concept. It's a lot of work but I genuinely enjoy the challenges involved in managing a show and herding the artists
What was the theme of the first show?
If my foggy brain recalls, it was not too long after the victory saving the Cleopatra venue. So it was a 'welcome to the cabaret" theme with lots of variety arts, drag queens and burlesque with a european cabaret flavour.
Why did you choose a Showtunes theme for this one?
Why showtunes? Why not? It was a theme that several of my regular artists really wanted to have and since I hadn't featured musical theatre type acts in awhile, I felt was a great idea. No matter what, everyone has at least one musical they like, so therefore the artist should be able to develop an act based on an old favourite .
What are your favorite musicals?
I personally like Chicago, Cabaret, Avenue Q, Contact, Wicked, West Side Story and The Producers .
I know a lady never tells her age, but how long have you been doing burlesque?
Oh gawd a long time. Long enough to see the transitions in the styles of burlesque going on. And some of the Legends passing on.
What is your biggest inspiration?
Oh gosh, I would say The Velvet Hammer Burlesque was a definite aha moment along with Le Scandal Cabaret. It was all bubbling underground and dynamic.
Who is your burlesque crush/icon?
Tiffany Carter and April March are my burlesque crush/icons. Completely different styles and eras yet wonderful legends to learn from.
What are your thoughts on the political importance and impact of burlesque?
It's 2016 and a woman/person stripping naked and in control of their bodies is still a big deal as evidenced by some of the crazy things going on in the world. Political burlesque acts are an important expression and, just like the court jester, tell the stories that wouldn't get told otherwise .
What are your thoughts on the Infringement Festival?
Infringement festivals provide a place for artists to create and have their say. Its getting more and more difficult to be able to afford to participate in many of the large(r) mainstreamed festival and this provides a DIY experience to develop one's skills.
* Photos (except for backstage shot) by Argaive
* Candyass Cabaret: Shimmies and Showtunes – Saturday, November 18th, Cafe Cleopatre, 1230 Boul St-Laurent, 10pm (Doors 9pm). $10