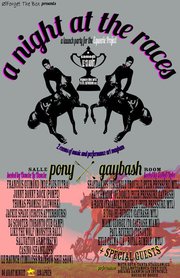 People get ready, rummage through your closet and get out your Sunday best and your Friday worst because Montreal is about to witness a once in a life time opportunity. This Saturday A Night At the Races is gonna rock your world.
At Espace des Arts (9 Ste-Catherine Est) the dream team of promoters, producers and artists are coming together for the first time ever. Three rooms, 17 dj's,live performances and every hip to be square queer personality that Montreal has to offer.
All of these legends have come together to support the cause of L'equeerie and to prove that the village does not hold the monopoly on fierte, fun and fabulous. A Night at the Races is also the official afterparty for the bounce booty shakin Garden Party at Club Soda featuring the one and only Big Freedia.
The powers of POMPe, GAYBASH and Forget the Box have come together to show this city a night it will never forget. Get there early to enjoy the spectacle in its full glory 6$ before 3am 12$ after. Prepare to be
unprepared for this much crazy.
For more info, please check out the Facebook page