Hot summer days in Montreal gives adults an excuse to purchase refreshments when a beer tent is close by, which tastes better when accompanied by the smooth walk of a jazzy bass line in the shared presence of other music lovers.
After enjoying a drink from a Heineken eating area, you may have encountered the roaming Mardis Gras parade walking down Sainte-Catherine Street during the 31st International Jazz Festival last weekend. Costumed to the hilt in the brightest colors and biggest smiles were stilt walkers, giant heads and colorful costumes. Resistance to dancing along to the Louisiana rag time was futile.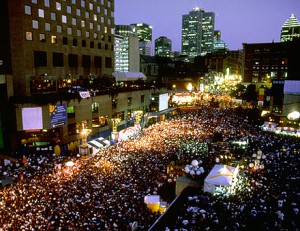 If you happened to look down at your feet while enjoying these sights and sounds, you might have noticed how clean the streets were.
Ironically, nobody is allowed in the festival with glass or any drink in its original container. People must empty the contents into disposable plastic cups, creating an environmental horror of epic proportions.
The biggest surprise over the weekend was that everything is recycled and composted and an army of student employees keeps the streets militantly clean. Despite the fact that the thousands of festival goers have to consume their food and drink in disposable wear, there is hardly any evidence of it on the crowded Montreal streets.
"Every garbage bin is emptied, sorted and the plastic is re-sold," said Robert Marien, a manager for one of the Heineken eating areas. "About 90 percent of the festival's waste is reused," he said.
Placed side by side every few meters, garbage and recycling bins were an easy find, however not everyone is familiar with recycling. "There are still some people who are confused, so I try to help them," said Pierre Viallon, a bag checker. "It's good to sensitize people," he said.
This world renowned festival has done a good job at mitigating its environmental impact, thanks to Rio Tinto Alcan, a principal sponsor of the Jazz Fest since 2008.
"We've incorporated Bixi bikes in our tent to educate people about being carbon neutral," said Yan Ouellette, an animator at the Alcan environment tent. "Many tourists come to the Jazz Fest. We'd like them to use a Bixi while they're in Montreal instead of a taxi, or renting a car," said Ouellette.
Four stationary bixi bikes draw attention to the only interactive kiosk of the festival, where participants can race each other virtually down the streets of Montreal.
"Every year, we try to reduce harmful emissions. We compensate for everything; transportation, artists, waste, the electricity we used," said Ouellette. "Last year, we compensated for 1,500 tons of carbon, but it's definitely a P.R campaign for Rio Tinto Alcan," he said.
The savings acquired by Rio Tinto Alcan during the festival are donated to the organization Planetair, a carbon offsetting non-profit organization, who then re-invests into environmental projects.
"I think it's seriously good to encourage this," said Stephanie Dionne, a student waste collector. "It is fun that it's a carbon-neutral event because many people come to it and we can help them decrease their emissions," she said.
Rio Tinto Alcan deserves praise for their effort, much as Kimberly Clark deserved praise for their switch to sustainable forestry practices.   The fact remains that both of these companies do not have great sustainability records despite their green-ish exterior.
Leachates from aluminum contaminates groundwater and mining has severe repercussions for the environment and the well-being of the people who live by the extraction sites.   Alcan has been criticized by Indigenous solidarity activists for the displacement and pollution of homes at nearby sites.
As Ouellette said, it is a public relations effort, and not necessarily a true representation of the company's values.