So here's the thing about getting older; after spending a week at the office the idea of standing in long lines and crowded venues filled with apathetic hipsters screams exhausting, not exciting. But as much as I'm having a weekend love affair with sweatpants and Netflix these days, there are certain nights where even this old lady knows she has no excuse not to drag her ass out of the house and go experience some culture. Nuit Blanche of course is one of those nights.
As I walked to my first venue of the evening, The Montreal Museum of Fine Art, I delighted in how pretty the snowy weather made everything look and thrilled that it wasn't the same sub-artic temperatures as last year. As I waited in the dreaded line up to get into the museum I cursed the heavens and wondered why there couldn't be one Nuit Blanche that wasn't affected somehow by the weather.
While I couldn't really blame some of my companions for deciding not to wait in a snowstorm, I'm glad some of the gang made it in. We wandered around the main lobby of the museum watching body painting and listening to a DJ. My companions and I were sad we couldn't indulge in our fantasy of running around the permanent exhibitions at night, but then not surprisingly our spirits were quickly lifted when we realized they were giving out free beers.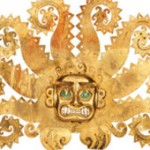 The main attraction of going to the museum was the travelling exhibit, Peru: Kingdoms of the Sun and Moon. While everything in the exhibit was beautiful, my favorite part was definitely the pre-Columbian treasures. Standing in front of ancient crowns definitely brings out the Princess fantasies in a gal. The exhibit runs until June so you have plenty of time to check it out for yourself.
Our night of museum stops continued when we then headed to the Canadian Center for Architecture where there was a Pop Montreal showcase going on. This time the insane line up was too much for me so instead of checking out the music show, I wandered around enjoying the exhibits the museum had to offer. I'll never regret that choice because while I was wandering around the museum I discovered the Karaoke room, where they were performing the last song of the night Shake Senora.  It was there where I experienced my very first spontaneous conga line, which snaked around the museum. It never ceases to amaze me how you can make the most careful plans in life and then out of nowhere you  have the most random and enjoyable experience instead.
While long line ups also prevented me from getting on the Ferris Wheel at the Quartier des Spectacles, we managed to find other fun like Arts Souterrain and standing on the main stage of Place des Arts. It was not my first time on that stage; I have stood on that stage as a child when my mother organized events there and then when I graduated university, but for me there's still something magical about it. Standing on that large stage looking out at the crowd really makes me wish I could belt out some opera notes or be a piano progeny. If only…