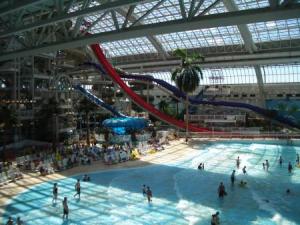 The West Edmonton mall spans 50 square city blocks, has two submarines, a skating rink and a mock-beach style wave pool, but that's nothing like what they're building now in Dubai and India.   Shopping malls, in many cases, seem close to being virtual cities and for many can fulfill the psychological need for a community.
There are, however, dangers apparent in the spread of mall culture.   Combining consumerism with an idea of the "good life" and building a community around shopping could very easily transform our social interactions and our concept of community and be a destructive force socially.   Meanwhile, malls are driving small, local businesses to bankruptcy.
The spread of malls and the social ramifications of mall culture are explored in Malls R Us, a new documentary by Helene Klodawsky which is screening tonight at Cinema Politica's Concordia University series.   The film combines historical footage of malls in America with some of the biggest indoor shopping meccas operating today.   It offers interviews with everyone from architects, sales managers and mall nostalgia buffs to social critics, environmentalists, labor activists and shoppers themselves.
It has already met with critical acclaim from people like Marc Achbar, director of The Corporation who called it "fascinating yet ultimately frightening" and several academics, writers and filmmakers.
Here's the trailer:
Tonight's screening is preceded by the short Canadian-made documentary Debt Trap which explores the reasons why so many are sinking into debt fast.   This will be the season finale for Cinema Politica's series at Concordia this year.
The political film series is now shown at 50 screening locals around the world, some of them in places like South America and Europe.   They also just opened a screening archive room at Concordia in conjunction with CUTV.
Both filmmakers will be present for the screenings.   The films will be shown starting at 7:30pm in room H-110 (the Hall Building) at Concordia University, 1455 de Maisonneuve Ouest.