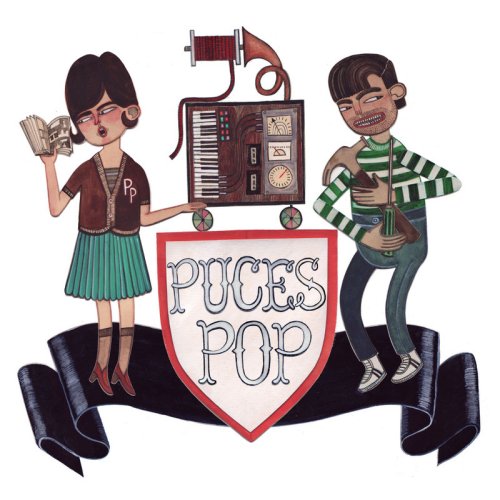 Yep, that's where I spent a good part of my Sunday afternoon this past weekend; surrounded by artists, designers, bakers and musicians at this year's 10th anniversary special "extra" craft fair.
I actually found out about this weekend's fair by accident having Sunday morning tea and cupcakes with some friends, they mentioned they'd be going along to Puces Pop directly afterward. I was surprised not to have known about it in advance did anyone else feel a little left out in the cold, or is it just that my head has been too buried in work lately? In any case, happily, I found out about it in time to show up and squeal with girlish glee over hamburger dresses, friendship-bracelets-made-modern jewelery, and home-made jams and jellies.
Since I now have the pleasure of writing biz-talk for FTB, I thought I'd stroll around and see, generally, how business was going and who could knock my socks off in terms of business strategy, marketing and display. I was not disappointed.
Know Your Market + Winning Website
I chatted with Norwegian Wood owner Angie about the differences between craft fair and online sales, she made the excellent point that the market's are totally different. At an on-site craft fair, as a vendor you want to have more small ticket items that someone can easily and inexpensively decide to buy. These small items, like some earrings or small accessories don't work so well online because, while ten dollars may be an excellent deal, it's less so when you have to tack half of that on again for shipping. After the fair, I checked out her website at NorwegianWoodOnline.com and hot damn, it's fantastic. Smooth design, good ratio of pictures to text, and a frequently updated and commented on tumblr blog is seamlessly integrated. The best part? There is no slapped-together shopping cart. Angie has made the excellent decision to (until such time as it's ready to be done right) sell through established user-friendly online retailers. Better still there's an explanation of this right above the links. Cheers. (By the way she makes really beautiful clothing, jewelery and accessories worth a look.)
Smart Line Extension
Moving on, at a nearby table I spied a veritable mountain of robot-monster pillows. (see video) Now, my long-suffering boyfriend can tell you that I have an irrational passion for pillows; it would be fair to say that if it's stuffed, I'll buy it, but these pillows were some of the most interesting I'd seen. They weren't painted, they weren't appliquéd how did these little cool dudes get on these multi-sized pillows?
Tyson Bodnarchuk is an artist specializing in monsters, robots, villains and other characters. While he has previously worked predominantly in acrylic, this new foray into textile art has been paying off. Allowing for the fact that he started selling them right before Christmas, when sales are very high, they've been doing very well. My question wasn't yet answered if not hand painted or sewn on how do these characters make it onto pillows? Spoonflower.com . Spoonflower is a print on demand design your own fabric service, and will probably be the topic of a post later on, but for now just know that they're user friendly, eco-friendly and organic. Sold. Tyson had his art digitally printed onto custom fabric and used it to fashion delightful quirky decor. This is how line extension should be done! Too many artists (and not just artists and crafts people almost everyone does this) try to do and be everything to everyone, when the key to developing a following and steady income is to have a specialty and execute it beautifully. This type of branching out capitalizes on his skill and new technology. Kudos, Tyson, keep up the good work.
Killer Concept
PapirMasse has a mission. Art should be available to everyone, and not exclusively to those rich enough to afford hundreds or thousands of dollars for a piece. So for $60.00 a year you can get an art print delivered to your door every month. This concept is so simple; it's easy to overlook its brilliance. Artists want to be exposed to a wide variety of potential customers, and people want art that is original, beautiful and affordable. Putting these needs together serves the greater community, in a way you don't see very often.
The lesson we can take from this is that just because something has always been done a certain way (art sales through galleries, etc) doesn't mean that you can't make it available on your own terms. Thinking outside the box, making smart partnerships and believing in what you do will take you everywhere. The belief that art should be available to everyone, and the connecting of artists with potential fans and clients makes this business model one I wish to high heaven I'd thought of first. I'll have to content myself with becoming a loyal customer. I can't wait to start my subscription, and I encourage you to take one out too!
So as usual, Puces Pop was an inspiring and somewhat humbling experience. I can't begin to describe the respect I have for an artist who takes the plunge into supporting themselves with their art. All entrepreneurs rely on their own skills and abilities to get them through the day, but only the hand-made based entrepreneur is relying on such a visual display of their passion and creativity. Although I have no aspirations to artistic fame myself, from what I hear, creating a piece can be a grueling task, and a genuine investment of soul. To put the end result up for sale in a room full of people or on the net, takes more confidence in self and product than many entrepreneurs hell, many companies could muster if they tried.
Video by: Lesbachelieres.com