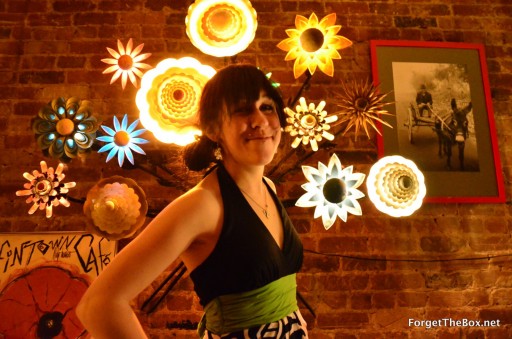 With the hockey game on, the Griffintown Bar was somewhat empty on Thursday night, however that didn't stop the bands from putting on a fantastic show!
The bar's entrance was covered with a bright red curtain that left a touch of intrigue upon entering. The inside bore a bluesy atmosphere, bright artistic decorations, an open kitchen, and what has to be the biggest TV screen I've ever seen in my life! It was nearly the size of a cinema screen.
The show started off with the beautiful and talented artist Vanwho (Vanessa Boivin Drolet). Her touching voice and meaningful lyrics carried me to a place close to the heart. Her music was soft, gentle, and had a friendly personality. Many of her songs were about the   pursuit of inner beauty and meaning in life. She even had a sweet display of decorative lights set up to complement her performance.
She started her set with Voilacité,   a song that opened my heart and made me smile . It's hard to actually choose which song was my favorite – Your Way , and Positivity particularly stood out, while Assez and What if We; both equally heartwarming and showed off her talent on the acoustic guitar with cleanly played riffs and picking.
Her set offered a personal touch, as she chatted and joked with the crowd. She even gave the older folks and the bar owner a nice treat when she covered Neil Young's My My Hey Hey; a sing-along perfectly attuned to the atmosphere in the bar. This girl has a rare talent, something we see too little of these days; truth, depth and inner beauty, and a contagious curiosity for life.
Her songs are already playing at clubs like  Club Soda , l'Abreuvoir and Le St-Ciboire. Hopefully we'll get to hear them on the radio soon.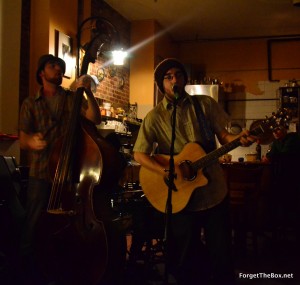 The Next set was Pi. Straight off the first chord, Pi's rugged gypsyish grinding swagger had us up and bouncing in our seats, bobbing our heads, tapping our hands and feet–even yelling and singing along to their catchy rough'n tough sandpaper vocals and vibrant constantly changing progressive blues rhythms. Pi and the Steady Swagger's music is more than just unique, its vigorous energy.   The fast tempo of the music got us going strong, energizing the club with a touch of Quebec culture, only to unsuspectingly break it down into a blended blues/jazz whiskey and malt. This had to be one of the most enjoyable and entertaining shows I've been to in a while.
The highlight of their performance for me were their songs Big Fat Radiant Sun, Fire and Whiskey and Everybody Drink getting the crowd cheering along, raising and clanging our glasses. These guys were so much fun to watch thumping on the double bass and Pi's rhythm getting us moving with their swaggered flow, and those rough grimy punk-esque vocals and guitar really grinding it in making it absolutely impossible not to have a great time (and get to drinking more than usual).These guys are a must see for anyone, absolutely anyone, who likes having fun, drinking, and good music all thrown together with a great performance.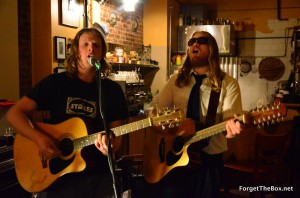 The DGB ended the show with a high energy acoustic set. One thing for sure is that the Greer brothers really know how to rock it! Aggressively playing without going too far,these guys are just having fun. Talking with them before the show had me laughing pretty hard. These guys must have downed a few bottles of whiskey before the show, and I'm impressed they were still able to play well and put on a good performance. They opened strong with Perfect Crime, where the younger Greer really showed off his voice, and kept it going right to the end and even paying homage to their fuel for the show, and the bar, with the song Alcohol.   The DGB had a full merch table set up, with copies of their albums including their most recent, Victory Song,   and plenty of T-shirts and stickers all at great prices that you could only find at a show.
It was a great performance from all three bands. Although most of the city was at or watching the hockey game, I had a great time, and even picked myself up a copy of Vanwho's album Dans Ton Salon that helped ease the pain of the alcohol induced hangover the next morning.