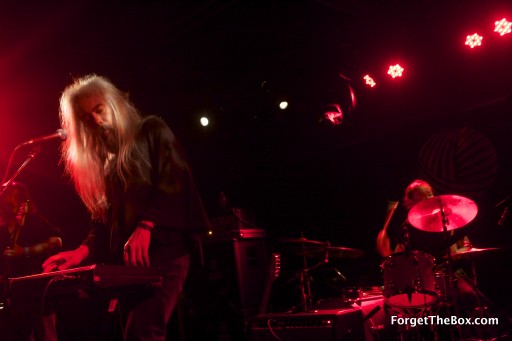 The night could best be summed up by two sentences overheard between the stage and the audience during the Acid Mothers Temple (AMT) set.
After the first jam, better classified as an eruption of noise (or chaos ignoring any traditional song structure or melody), guitarist Kawabata Makoto looked across the mostly hallucinogenic experimenting audience and asked in broken English, "By the way, have you seen a flying saucer?"
His question was met with a divergent mixture of poor attempts at laughter and adamant confirmations.
The response was a microcosm of the disparity between crowd members, split half-and-half between drugged-out diehards and bar patrons, who stumbled into the strangest set of their lives.
Of the drunken party-goers from the latter group, a few successfully made the transition into fan; potentially assisted by the merchandise of one of the several trench coat and sunglasses adorned gentlemen standing on the outskirts of the audience.
One of the converted spoke for the rest when he yelled, after AMT returned for an encore, "YOU ARE EXPERIMENTAL!" and then mustered a revering banshee howl generating pleased smiles from the stage.
Those smiles   led to a well-deserved encore;   a monstrous set-closer of epic proportions, composed of a steady half an hour build-up that somehow managed to be breathtaking the whole way through. The length was not unusual, no song clocked in at less than ten minutes during their jam-heavy set, but what was notable was the careful patience and powerful utilization of dynamics. Engaged the whole way through, the crowd was sent into hysteria, begging for an encore upon the conclusion of the set's trance-inducing highlight.
The most consistent attributes to each song during AMT's live performance were the metal-influenced guitar solos representing pure insanity let loose on an instrument. Makoto's fury of sporadic notes exploding from his heavily reverbed and distorted amp audibly recreated Jimi Hendrix's most daring improvisations (e.g., the Star Spangled Banner at Woodstock). Visually, he wasn't far off either, with his solos climaxing to his unstrapped white Fender being thrown and spun in every possible direction: upside down, backwards, or above his long curly hair and beard. At times, I couldn't help but wonder if Hendrix had been reincarnated in 1970's Japan and given the opportunity to grow up in a more progressive music scene.
On the opposite side of the stage was Tsuyama Atsushi, bassist and occasional lead singer, who with the aid of an always entertaining loop pedal, layered endless eastern chants, murmurs, and sounds into avant-garde foundations for jams.
The portions of the set that focused on a mostly instrumental approach to psychedelic dark metal brought to mind the Flaming Lips latest album, Embryonic, even though AMT has been perfecting the craft of that genre for decades before the Lips even begin to dabble with it.
But that's just the nature of experimental music, especially when instrumental—overlooked and under-appreciated, claiming only a cult status as the group that did it first.
Something about the playful banter and the intimate setting seemed to suggest that AMT couldn't be more content with their current situation—becoming a household name was never a priority for any of them.
Thanks to the select few fanatics, AMT fed off their energy and summoned an intensity level that carried the music to the next level. The intensity was the most apparent similarity between them and their opening act, Shilpa Ray & Her Happy Hookers. Each member of both groups managed to produce more sweat than a Pollock paintbrush splatters paint, causing me to stand back a few inches from my prime location against the stage.
It was a night of relentless noise, causing me and my New York friends to lose a good level of hearing ability over the next few days. But then again, maybe it was a blessing to help block out some of New York City's endless horns and sirens.
Either way, an outsider's enjoyment of the show comes down to a simple matter of point of view.
For some, AMT sounds like your new neighbor's garage band, who you could've sworn moved into the neighborhood straight from the depths of Hell just to torture you.
And for some, that's a good thing.
For more photos from the show visit us on facebook.
Photos by Alexander Fonseca