Montreal Comiccon 2012 was bustling with people of all ages and from all persuasions, gathering to celebrate one our generation's greatest contributions to the art of storytelling and entertainment.
The beauty of the event was the lack of a unifying theme; indeed Comiccon covered all genres from comic books and graphic novels which in themselves can be subsections into numerous categories, to sci-fi, films and television programs which have achieved or are gaining fashionable status amongst the content savvy audiences.
In the long queues zigzagging around the building people were thoroughly excited, be they in their handmade elaborate costumes, or just wearing their favourite T-shirts exhibiting their leanings toward certain fictional story
The key word here is fictional, because unlike religious groups and cults these people are intelligent enough to know fully well these superheroes and supernatural beings have no connection to reality, and so they are indulging in some harmless fantasy.
Mike Mignola the creator of the comic book Hellboy, present at the Comiccon, exclusively made a drawing of his character eating a Montreal poutine, but I really don't see a group of Montrealers now declaring faith in his prophecy and start wearing magic Hellboy underwear at gatherings eating poutine.
Even though I can imagine ancient and modern religions being born the same way as legends of superheroes, I just can't envisage fans starting cults because of Superman, Batman or Wil Wheaton's super bright character Wesley Crusher on Star Trek. But again, who would have thought people would believe in Mormonism and one of them could one day run for presidency of United State.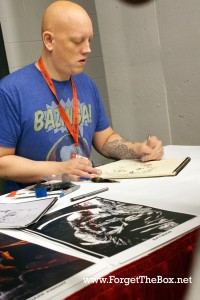 My point is that thanks to mass media and expansion of communication means, we can now safely say that the great David Finch is an artist and not a prophet, and comic books like X-Men are great fictional stimulation for our ever dreamy intellects, they are not holy books. I really think Homer would have loved to have Iliad or Odyssey in graphic novel forms, and if nobody has done it yet I want credit for the idea.   
Did you hear about people murdered over Green Lantern being portrayed as a homosexual? No, because reason is in control here; these books are telling us stories even though as outrageously unrealistic as an angel talking with a prophet, they are based on imagination and we are aware whilst losing ourselves in the pageantry.
Though I have always been against the celebrity cult, I am ashamed to say that Sir Patrick Stewart being at the Montreal Comiccon this year made me abandon my ethics and I was succumbed to the glitz and glamor of the great man. I have been watching him and following his career from Shakespeare, Star Trek: The Next Generation to Beckett's "Waiting for Godot", even having a recording of his appearance in the eleventh season of Frasier in 2003.
So I paid the money at the till for a photo-op with an actor I consider one of the greatest of all time. I proceeded to queue once again, in line with many fans who I felt a great deal of camaraderie with. We shared bonds that united us, least of which was choosing to take our photo taken with Patrick Stewart instead of William Shatner.
Waiting in the line, I kept thinking what would I say to the great man? Thank you for opening my eyes to Shakespeare? No, no that would be too pretentious. Thank you for Star Trek? I guessed many of my comrades in the line would say the same. Thank him for Samuel Beckett? Suffice to say I was lost for words, and so I decided to just shake his hand and thank him for everything.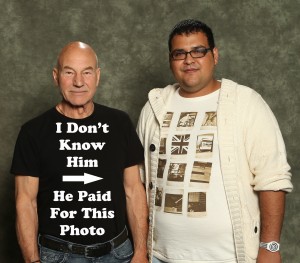 When the moment of truth arrived and I was next up to meet the man, the guard told me in a stern voice: "No touching or handshakes." And just as I was gathering my nerves to say something, the photographer said that doomed word that shall haunt me for rest of my days: "Smile!" and the photograph of me and Sir Patrick Stewart was taken without him ever knowing who I was, or how much I enjoyed his work.
On the way home, photograph in hand, I thought about how many photos with actors must have been taken that day, and how for them it is only to feel appreciated as they should be, but how for the rest of us it is a fake memento of our starry eyed, childish wish fulfilment. All I can say is that I stood next to the man I admire, hoping it gave him some reassurance that he is doing a good job, alas I think he gets that from the awards and titles he is given, and so all our adventures that day are but a memory.