Vancouver native and self-proclaimed "urban hippie" Annie Becker released her very first album on May 18th, entitled All About the Beez Neez.
Ambrosia Records, the label releasing the LP, made the obvious Regina Spektor comparison. And while Becker's voice is impressive in range, it does sound like Spektor's, minus the daring weirdness and unique boldness.

Beez Neez, the song sharing the album's title, is a song sopping with wet blanket guitar riffs and lyrics so rife with cliché, it's a little bit of a cringer. Maybe Becker was trying to be tongue-in-cheek here or something, as she sings about Bees Knees, cats pajamas and generically-worded love affairs. Maybe not.
The fourth track, Za Za Zue, calls to mind a rich burlesque in the dirty thirties. With its throaty growls and swanky horn sections this song is actually enjoyable, zipping off in different instrumental directions and proving that Becker might actually have something here. But it's inconsistent. Other songs like Change, and Flaky, show off a more generic lyrical styling and drowsy, female singer-songwriter melodies that are comparable to Feist, Jenn Grant, Regina Spektor, Jill Barber, etc.
Sideways is a solid vocal showcase though, as Annie Becker stretches her voice out over roaring horns and you get to hear it in its rich fullness. The girl can sing, and the horns really are a nice touch. With a misty piano intro, the song bursts fully into Becker's biography. The whole album comes off as personal litany of what she's learned and endured, through metaphors reminiscent of grannies and greeting cards. The lyrics could be a little fresher, definitely, and the song structure more consistent.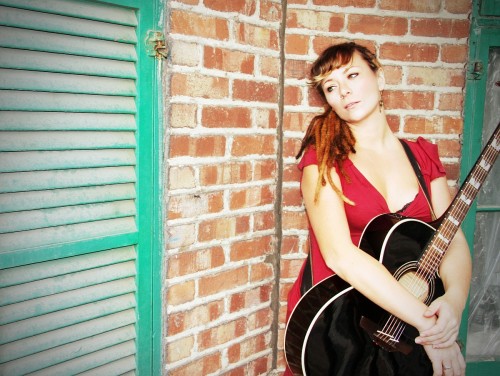 For example, Becker once again proves how uneven the album is by zigzagging over to the track Little Darlin, layering her vocals and throwing down a sultry song that is reminiscent of a saner Lauren Hill. The melodies of this song are woven together well, and her voice stretches far and wide over a snappy blues snare drum.
She ends Beez Neez with a little song about the old nine-to-five, entitled Okay. She says she wants to write about ditching the day job and writing a song "about how she feels." Well, this reviewer suggests that if Annie Becker doesn't want to get lumped in with all the other tedious, redundant, dusty-voiced female singer-songwriters, she should maximize the talents showcased on tracks like Little Darlin, and maybe her next album will be less hit and miss.