I've been to a few comedy TV tapings in my time including one episode of The Daily Show and a few Just for Laughs galas. JFL All Access was different.
It had a real comedy club feel, meaning we, as an audience, were part of the show. In particular a kid who was there with his parents and some dude with a beer towel on his head.
The young man was a go-to for most of the comics, but the guy with the towel was just a favourite of host Moshe Kasher. The host explained that he looked like a fellow American, so a bond was formed.
Experienced being on TV and now hosting his own talk show, Kasher took to his JFL hosting duties like the pro that he is. He also delivered some real killer standup.
His material touched on catcalling, Jewish stereotypes and the difference between the kind of social media comments he and his wife (Natasha Leggero, also a comedian, hosting All Access tonight) get. The most interesting part for me, though, was when he told a joke as a test to see just how far a progressive Montreal audience would follow him.
But, of course, the show wasn't just about the host. There were seven really talented comedians also performing.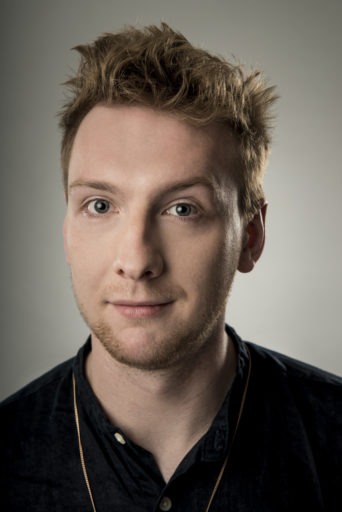 The standout for me was British comedian Joe Lycett. His retelling of an email exchange he had with his rental company was that stuff that fits of laughter are made of.
Fellow Brit Seann Walsh also delivered the funny with a really relateable bit on memories of Limewire and dial up. I felt I should have predicted his final punchline but was glad that I didn't as it really worked comedically and made sense.
Proving that even the comics in Vancouver are chill and talk about weed was Sophie Buddle. Her set was low key but just as funny as her more bombastic compatriots. A nice change of tone.
Fellow Canadian (from Toronto) Eddie Della Siepe won the award for most awkward personal story told for laughs. It involves vibrators and his deaf mother.
Fellow Torontonian now living in LA Julia Hladkowicz got real about an encounter with a kid in a park. It's all about perspective.
Props to American comic Guy Branum for bringing our national dish into the conversation. He also had some interesting views on Canada's history.
Eugene Mirman of the Eugene Mirman Comedy Festival and Bob's Burgers spent most of his time telling of a rather unique way he got revenge for a parking ticket. However, it was his story of the signs he posted in various places that really got me laughing.
While that completed the TV lineup, the audience was also treated to a surprise off-camera performance by Jimmy Carr, whom we already reviewed in our report on The Nasty Show. There was also Aaron Burr, a stellar comic in his own right, serving tonight as the warm-up guy before the cameras started rolling. Burr's set was great, but there's something extra cool about getting instructions on how to get drinks from the bar during the show from a world-class comedian.
I recommend checking out an All Access taping and watching this show when it shows up on The Comedy Network.
All Access Live runs with different hosts until July 29th, tickets available through hahaha.com