Populated with A-List actors and a killer soundtrack, The Royal Tenenbaums is the family dramedy at its absolute best.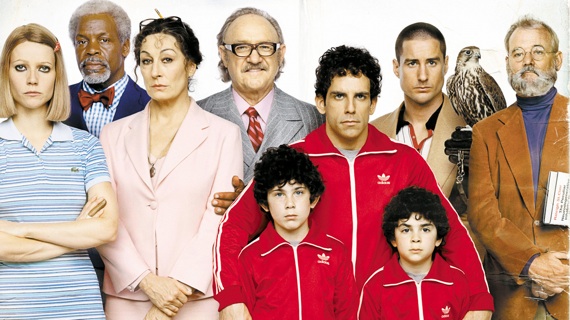 THE ROYAL TENENBAUMS (2001)
Starring: Gene Hackman, Angelica Huston, Gwyneth Paltrow, Owen Wilson, Luke Wilson, Ben Stiller, Danny Glover and Bill Murray
Written by: Owen Wilson and Wes Anderson
Distributed by: Touchstone Pictures
Directed by: Wes Anderson
109 minutes
I know I've already mentioned it in my best of the decade back in December, but I've been aching to do a full length post on this film for awhile. There are many reasons why I love The Royal Tenenbaums, but as a dedicated follower of fashion my number one reason is the use of style. It's impossible to talk about a Wes Anderson film and not comment on the director's distinct use of pop/rock music, deadpan dialogue and hyper stylized realities.
Anderson's distinct style   has different effects depending on the film; it can make the project charming like with his first great film Rushmore (1998) or completely pretentious-seeming with his worst film to date, The Darjeeling Limited (2007).  But with this film, the director's three main uses of style blend together perfectly to tell the story of the once-great Tenenbaum family.
A narrator (an uncredited Alec Baldwin) introduces us to the Tenenbaums; Margot (Gwyneth Paltrow), the adopted Tenenbaum sibling, was once an award winning playwright and now spends her days secretly chain-smoking in the bathroom and avoiding her husband Raleigh (Bill Murray). Richie (Luke Wilson) was once a great tennis player whose career crumbled when he let his romantic feelings for his adopted sister get the best of him. Chas (Ben Stiller) is a businessman who's let his anger toward his father and depression over the death of his wife take control of his life. Then there's Eli Cash (Owen Wilson),Richie's childhood best friend and wannabe member of the Tenenbaums. Although Eli's developed a successful career as a writer, he's ruining his life with a serious drug addiction. Oh yeah, and he's having an affair with Margot.
What eventually brings all the Tenenbaum siblings back together is the news that their estranged father Royal (Gene Hackman) is dying of cancer. Wes Anderson has said that he wrote the role of Royal Tenenbaum specifically for Hackman and indeed he's so perfect you can't possibly imagine another actor in the role. Mischievous but ultimately charming, Royal has many reasons to want to reconnect with his family, not all of them completely innocent. Royal being back in the picture is not welcome news to matriarch of the family Etheline (the divine Angelica Huston). Etheline has become serious with Henry Sherman (Danny Glover) and having her estranged husband around isn't exactly helping their relationship grow.
With The Rolling Stones, The Beatles, the Velvet Underground and Bob Dylan always somewhere in the background, the perfectly styled Tenenbaums find themselves each forced to deal with their issues and learn how to be a family again. Each actor is so superb that even Stiller, whose previous film was the ridiculous (although immensely entertaining) Zoolander, manages to nail the comedic and dramatic scenes with equal strength.
Not only is The Royal Tenenbaums Anderson's best film to date, but it's also an funny and heartbreaking story of how hard it is sometimes to be a family.