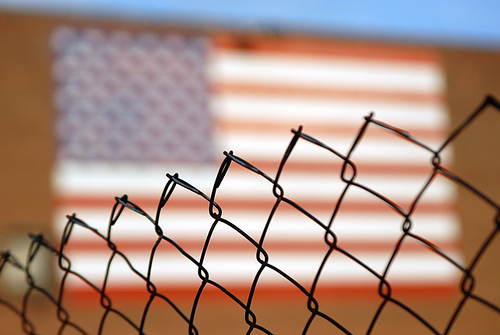 I'm terrified to open my computer.
Whenever I do, my anxiety rises. I become edgy, frustrated, and sad. All hope for a bright future dissipates as I scroll my news feed for the umpteenth time.
The root cause of this despair? America, and the amount that I've submersed myself in its politics.
As a young, naïve Canadian, I used to think of America as we're supposed to think of America. That is, a land of proud, freedom-loving people—a people who epitomize democracy!—whose rich and diverse culture was the envy of the world.
But right now, with every article I read about rape-apologists and queer-fear mongering and voter–disenfranchising and cutting social services in order to give more to the rich, I no longer think so highly of them. Hell, from what I can tell, they've forgotten what the words freedom and democracy even mean. I mean, how misguided does one have to be to equate the ability to own a gun with freedom, while healthcare for all citizens is an infringement thereof?
Of course, I don't actually think 300 million+ people have given up on these ideals. But it does appear that way, which is what really matters to those whose only ideas on the state of America come from the media. And despite how much I tell myself that this existential angst I feel for them is something that every generation feels, I can't help but think it's different this time, that this is something more than fleeting.
With the help of the Citizens United ruling, combined with a shameless corporate media, and a wealth gap that spans to the moon, a perfect storm has formed on the horizon of the Great American Experiment. When this storm hits—yes, it's a matter of when, not if—and the toxic policies of the mega-rich are fully unleashed, Americans can kiss goodbye to any ideas they may once have had about life, liberty, and the pursuit of happiness.
Sorry, I need to stop for a moment. I'm having trouble taking a full breath. …
Okay. Here we go…
If it's not already obvious, the ideas of the modern Republican are the antithesis of those of the founding fathers. What's disturbing is that, despite being called-out left, right, and centre for the sheer absurdity of the beliefs they harbour, the Republicans are serious contenders in this election.
No amount of bad press hurts them. Despite blatant racism (Obama removed the welfare work requirement) and sexism (they're against making it easier to sue for pay discrimination), outright lying (Obama is a Muslim), or even bluntly stating the cold-hearted truths of their philosophy (rape is just a method of conception), they continue on their path undisturbed.
Big Money has been chipping away at legislation that provides a more equal footing for citizens for years now, and they're so close to almost-absolute power that they can taste it. Nothing is going to stop them.
That is unless the American people wake up—something that I doubt will happen until it's too late. This is not because I don't have faith in Americans, but because I'm a believer in human nature. And, as humans, we have a tendency to push ideas (in this case, laissez-faire capitalism) to the max, and don't stop until we hit a dead end.
Don't believe me? Just take look at the big ideas that have failed in human history, like fascism, slavery, and communism. None of these ideas were stopped because those in power relinquished to the people, or because the legal system intervened—in fact, legal systems were used to justify the advances of these disgusting ideas, just as is being done now with capitalism.
Now, I'm not suggesting that there's going to be war, as was used to settle the previous failed ideas. But I am suggesting that laissez-faire capitalism is probably not going to have a peaceful resolution.
I'll leave it here for now—I obviously have no idea how things are going to work out, and there's no point in speculating any further.
I'm going to close my computer and step outside for some air before the storm gets here.
Moments before publication, the author of this post caught wind that Obama is calling for a constitutional amendment to the Citizens United ruling. The author is feeling a lot better about the world—for the moment, at least.
* Image by MJM, Creative Commons Liscence