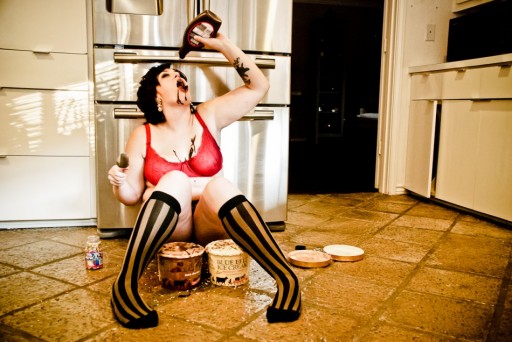 American Apparel is finally going to be making clothes in more American sizes as they expand into the ever-growing plus size clothing market. And since their brand is associated and almost dependent on a particular type of visual image, they took the opportunity to find a fresh face for this new advertising campaign. Their casting call for curvy ladies "who need a little extra wiggle room where it counts" offered the winner the chance to be flown to LA for a bootylicious photoshoot.
The patronizing tone of the casting call really struck a nerve with Nancy Upton, a 24-year old blogger from Austin, Texas.
"As corny as it sounds, it just occurred to me that based on their "Hey, come on, fatties, we want you to play, too" tone, wouldn't it be kind of brilliant to respond in a, "Thanks for letting me play, just let me try to put down the pizza, first" similar mocking tone," she said.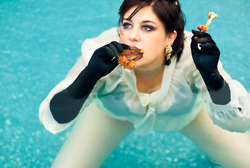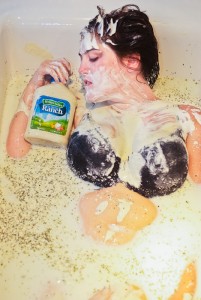 And put down the pizza she did, and picked up pie, ice cream, and fried chicken instead. Her irreverent photos are nothing short of brilliant, ranging from her in front of the fridge post ice-cream binge to elegantly-dressed, gloves and all, in a swimming pool about to feast on a chicken drumstick to lounging in a bathtub full of ranch dressing. Her images were accompanied by the biographic text, "I'm a size 12, I just can't stop eating." While she never considered herself to be a serious competitor in the contest, she was ranked first overall when online voting ended, beating out countless boring shots.
However, the company declined to offer her the prize, giving it instead to "other contestants that we feel truly exemplify the idea of beauty inside and out." This coming from a company who once decreed that plus size clothing was not their demographic. Also, from the company whose CEO has been accused of masturbating in front of a reporter and several former employees, and who wore nothing but a "cock sock" to meetings. You'd think they would support the ridiculousness of Upton's aesthetic, which generally involves vacant, doe-eyed barely legal ladies in sexually charged, slutty situations.
This is why I generally can't support American Apparel. Sure, they do have some nice styles, but their prices are inflated for the basics.   When I get to write about them at work, my daytime copywriting gig peddling a variety of so-called designer fashions at discount prices, I usually bust out the rhyming dictionary, "Whether in London, Paris or Bangkok, you'll stand out in this fabulous frock."
But wearing their clothes ulti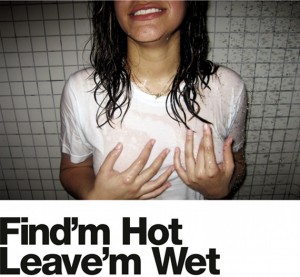 mately makes me a feel a little dirty, like I'm buying into this aesthetic where women objectify themselves in the name of peddling panties.
In the end, Upton was offered a chance to tour the American Apparel office and factory in downtown LA, and she accepted on the condition that she is able to write about her experience, one piece that I am very much looking forward to reading.