Ethan Cox is a Montreal-based writer and political organizer. He was formerly FTB's news editor and the Quebec director of Brian Topp's NDP leadership campaign. He is currently a special correspondent reporting on the Maple Spring for Rabble.ca where this post originally appeared.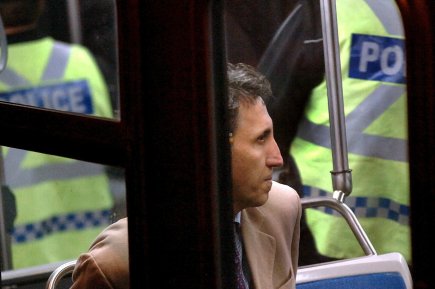 Québec Solidaire MNA, and co-spokesperson for the party, Amir Khadir was arrested last night in Quebec City. Video from TVA shows him in handcuffs and being led onto a bus with an unknown number of other demonstrators.
A message was posted on the Facebook page of Québec Solidaire, the left wing political party for which Khadir is the only MNA, explaining that Amir left the National Assembly, heard casseroles, and decided to join the completely peaceful march.
The demonstration was declared illegal, some part of it was kettled, arrested and loaded onto a bus. In a statement on Khadir's arrest, Québec Solidaire says 65 were arrested alongside him.
All, including Khadir, were charged with a violation of article 500.1 of the highway safety code. Something the QS post points out as odd, given that it was an entirely peaceful casseroles march.
The SPVQ (Quebec City police) declared the demonstration illegal because no route was provided. However they proceeded to ticket all those arrested under the highway safety code for obstructing traffic and claimed they were not using Bill 78.
While police in Montreal use a municipal by-law passed concurrently with Bill 78, which replicates many of its provisions, to declare demonstrations illegal which have not submitted a route eight hours in advance, I am unaware of a similar by-law in Quebec City.
Therefore it seems ridiculous for the SPVQ to claim they were not applying Bill 78 when they declared the demonstration illegal. The provision in the Highway Code relating to blocking traffic is meant to be used on people who run around on highways. By definition a protest is "blocking traffic", so if it can be used on protests then all protests are illegal. Using this law to lay $494 fines on peaceful protestors is an egregious abuse of police authority, and misinterpretation of the law.
The sad and sorry truth of what is happening right now in Quebec is that, insofar as protest is an established pillar of democratic society, our democracy is breaking down.
Kettling has been declared illegal by the G20 inquiry in Toronto, and senior commanders are losing their jobs for employing the technique. Meanwhile in Quebec, it remains the bread and butter of the Montreal and Quebec City police forces.
Bill 78 has been declared unconstitutional by the Quebec Bar Association (representing lawyers and prosecutors) and yet it stands. It is now essentially illegal to protest in this province, and anyone who dares do so risks arrest and a charge or fine.
Democratic society was built by demonstration. It is because of demonstrations that democracy itself exists in our societies. That blacks are treated equally, that women can vote, that we have the weekend. Every good thing about society was fought for, in the streets.
And now Charest, our delusional and demonstrably corrupt Premier, thinks he can eliminate our right to protest? That he can send in the riot squad to arrest peaceful citizens expressing an opinion? That he can arrest a fellow member of the National Assembly for daring to agree with them?
Ya basta! Charest has got to go. Not in a few months, but now. He has taken a broadsword to the fabric of our democracy. He has arrested over 3000 peaceful demonstrators, more than during the October Crisis. He has ignored the will of the people, the very people whose consent he requires to govern.
We have the power my friends. His power comes from our consent. If we withdraw our consent he is powerless, an emperor naked as the day he was born. And I bloody well withdraw my consent!
Forgive my anger, but this latest egregious assault on our most basic liberties has hit me like a final straw across the back. I've had enough. I'm mad as hell, and I'm not going to take it anymore.
If you're in Quebec, you know what to do. Make tomorrow the largest night of casseroles this province has yet seen. Let the very ground quake with the sound of our pots and pans and righteous indignation!
If you're anywhere else, tomorrow night was already scheduled to be Casseroles Night in Canada. Well over 100 locations around the world have already signed up to hold solidarity casseroles tomorrow at 8PM. Check the list for your town, if it isn't there start your own casseroles! All you need is an event page, which you should post on the page for the national event. You'll be amazed at how many people join you!
Let this be the last straw for us all. Nothing is more important than protecting our democracy, and it is most certainly under attack in Quebec.
Some will say the protesters are the undemocratic ones, not respecting decisions of elected representatives. Some will say protest is nothing to do with democracy, that the institution is confined to the ballot box. They should read more, because they are ignorant to the history and meaning of the word democracy.
A democratic government is responsive to the people. Charest is not. A democratic government allows all protests, no matter their cause. Charest does not. A democratic government does not arrest the innocent, does not sweep up large swaths of people on the street. Charest does.
If we lose this struggle, if we allow ourselves to be bowed and beaten yet again, I promise you it will not end here. This is our moment, our line in the sand, our primal scream "This far, no further!"
Wherever you are, whatever you do, join us in the street. To rail against the wicked, but also to celebrate the beauty, the love and the community of our movement.
In the flames of this debacle was born a beautiful thing. Call it civil society, call it community, call it the 99%. In the joy of our casseroles, we came together and shared our love.
An amazing indy filmmaker I met this week has a tattoo on her arm which reads "Love is the movement" For her, we all do what we do out of love. Love for our fellow people, love for our children (born or unborn), love for the earth.
This movement has awakened our communities, and set the fire of love burning in our chests. We are together, we are strong, and we're done being pushed around.
We're done being called crackpots and communists for questioning our governments' slavish obedience to big business. We're done being arrested, beaten and threatened for exercising our democratic rights. We're done with greed, with austerity and with unbridled and unhinged capitalism.
You don't need to be a communist to think our system is out of control. I daresay Adam Smith would agree.
So tomorrow, and every day after, send a message to the world. Our love is greater than your violence. Our community is stronger than your repression. Our dreams of a better world are better than your empty cynicism.
Across the globe, they rally for us Quebec! Because we will win. Because we must win. Because the consequences of losing now are too grave to contemplate.
I know some of you are scared. You have every reason to be. But we cannot let that fear win. If the fear of the police keeps us at home, they have already beaten us. Be peaceful, be joyous, be loving. Stand together and be strong. They cannot arrest us all. There is strength in numbers, and there is strength in each other.
Tonight, my heart is with Amir, and all the others. Tomorrow, I will be in the street. It's too important not to be.
Follow me on Twitter. The revolution may or may not be televised, but you can bet it will be live tweeted! @EthanCoxMTL