A painting of the late singer Amy Winehouse done by the South African born artist Marlene Dumas has been acquired by UK's National Portrait Gallery which is the second most important Art gallery in Britain. The price paid for the work is undisclosed, however judging by Dumas's price tags I would estimate it for around $3 million. She has been described as the most successful artist of our time, which goes to show how far the art world has drifted away from the shores of sanity and taste.
I challenge anyone to find any resemblance of beauty in her work. Her paintings, which you might mistake of that of a child playing around with paint are, contrary to popular conception, devoid of any emotion or honesty. She possesses no technical proficiency, and the color palette might have as well been done by that elephant that wowed the YouTube audiences with randomly splashing paint onto a canvas.
Dumas' Amy-Blue which will now shock the visitors to National Portrait Gallery as they walk into the contemporary wing, will be given an entire wall to itself as another testament to what market created reputation does for a bad artist. Look kids, you don't have to learn how to draw or paint, you just have to find the right rich man to buy your finger drawings and you will be the most famous artist in the world.
The painting itself was painted after the pop star's death, and has some resemblances to the singer, and the blue used has been described as relevant to her troubled life and her choice of music, but man it is an awful portrait. Failing to find any critic who would praise the work without abandoning their ethics, the press resorted to asking Amy Winehouse's father to comment, and this is the man who disowned her own daughter when she was alive because of her drug taking and out of sorts behaviour, and after her death published a book about how he loved her, starting a foundation to cash in from her fame.
Mitch Winehouse in an interview said about the painting: "It is a fantastic piece of work and we are fascinated to know how Amy was seen and remembered by family, friends and artists of all kinds. With the Amy Winehouse Foundation, Amy is our inspiration and it is profoundly moving to find that she still inspires so many others too."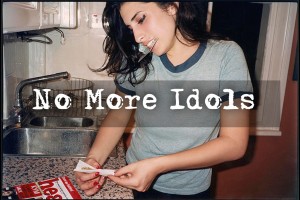 Yes, Amy Winehouse was an amazing singer and I was a big fan of her lyrics which were raw and uncompromising, but honestly, would anyone call her an inspirational figure? She became so addicted to drugs that she could not perform on stage anymore, and people booed her until she was forced to cancel her tour. She kept returning to her relationship with Blake Fielder Civil who admitted to getting her addicted to crack cocaine and has a long list of charges to his name from sexual abuse to attempted robbery.
Have we not had enough of celebrities and pop idols? Are we not intelligent enough to decide for ourselves what is good or bad? Do we still need to pay for entertainment, while those who have to carry the burden of entertaining us lose touch with reality more and more? Aren't studios and managers and publishers rich enough to stop feeding us garbage in hopes of fattening their own pockets?
Why does the old man in the corner of Saint Catherine and Drummond have to beg for cents and cigarettes, shacking from the cold, fingers and lips frozen blue, while you and I take money out to pay these robbers and charlatans to give us celebrity and all the products and news that come with it?
I'm afraid I find no beauty in the portrait of Amy Winehouse, and I will not condone UK's National Portrait Gallery for exposing such inferior work to people especially children who will visit on their school trips. We do not need any more idols.