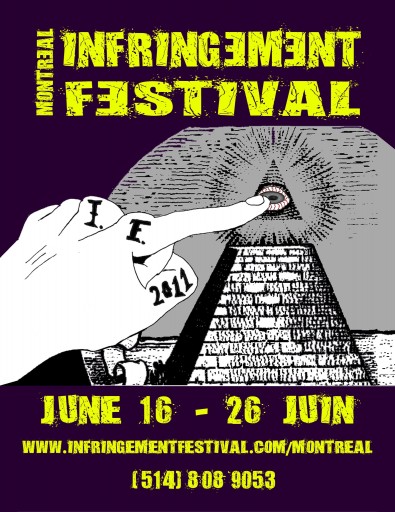 Of all the festivals happening this Spring/Summer, it was the Fringe festival which was top of my hit list. Ireland, being relatively close to Scotland, made word of the Edinburgh Fringe Festival pretty common place. The idea of an anti-establishment and reactionary festival was somewhat enchanting to somebody with no Fringe experience.
So it was much to my surprise and disappointment when I learned a little about the commercial aspect of Montréal's Fringe TM…but I need not have feared! Infringement is back again to provide a more authentic propagation of the 1946 Fringe held in bonnie Scotland. The relationship between Montreal Fringe and Infringement is actually quite similar to that between the two rival Scottish Fests. An event becomes commercial; its reactionary bastard child springs to life.
The artists perform at Infringement freely and, for the majority, the events operate a pay-what-you-can system. This lack of concern for profit and money is extremely refreshing. It also opens up the festival to everyone, especially people to whom a pricey festival season can be exclusionary. This is what I had previously imagined and hoped a festival aiming to reside on the fringe would entail.
Running from the 16th to the 26th and based mainly in the Plateau, the festival is showcasing all sorts of colourful theatre, music, poetry, walking tours and experimental performance. The venues vary from bars on St-Laurent, to an awkward space on Guilbault, to the Concordia Co-op Bookshop, and even Mont-Royal Park, so even those not living in the Plateau can find something relatively nearby without breaking too much of a sweat. Throw in some booze, smoke, sun, fun and frolics, and the resulting entity seems pretty enticing.
Being an Infringement virgin, I'm not entirely sure how to prepare. A few drinks of rum from a frozen lemonade shot glass seems as good a way as any, so right now that's being seen to. For the next ten days, the Infringement schedule is the map of my day, tumbling, like Alice down the rabbit hole. Only Alice, presumably, didn't get pissed as much as I will. Perhaps the best plan for a festival of this calibre is not to plan too much. It's a relaxed artistic endeavour, run passionately and kept going by people who put love of fringe spirit above personal gain. What isn't made in dollars is made in inspiration and challenge.
So, if you're tired of corporate logos and dollar signs permeating the festival scene, then perhaps it's high time you checked out Infringement. Performance details and schedules are up on the website, so have a look and see if anything slaps you in the face, screaming "you want to see me, amigo!"  Stick around because I'll be keeping you up to date, bi-daily, on the madness going on at Infringement!