McGill's Second Conference on Global Food Security
Did you eat breakfast today? What about yesterday, did you get to eat all you needed? If you are living in North America, the chances of answering "yes" to these questions are relatively high.
Before reading any further, take a moment to write down all of the steps that it takes to get food on the table, don't forget to take fossil fuels and farming costs into account!   No matter the length of your list, I hope that you will be surprised at how much goes into that box of cereal, or the cup of coffee you may have had recently.
The majority of us do not think of these things on day to day basis and many of us are little aware that there is a food crisis at all, which is why the Second McGill Conference on Global Food Security was such an important event for a calamity which has left around 1 billion people malnourished worldwide.   The principle theme of this year's conference was the impact that the global financial crisis has on food security and was presented in detail during the public lecture and panel discussion which took place October 5th.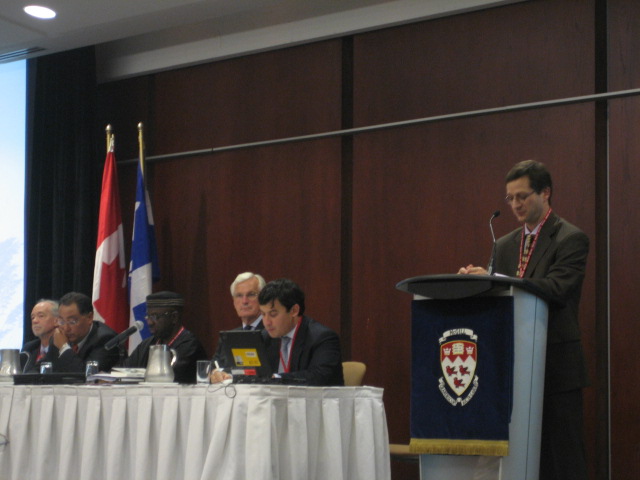 Moderator Rene Provost from the McGill Faculty of Law
The five panel members came from Montreal to Nigeria to share their thoughts and discuss solutions on many issues surrounding food security.   The moderator was Rene Provost, the Director of the Center for Human Rights and Legal Pluralism in the Faculty of Law at McGill Univeristy.
The opening speaker, Mr. Michel Barnier, European MP and former Minister of Agriculture in France, stated that this is a crisis of demand, abundance, the rich, the poor, of excess and lack and the result of 30 years of neglect.
European Member of Parliament Michel Barnier from France
Some gave stark reminders that the cost of fossil fuels is tied closely with the cost of food, such as David Malone, president of the International Development Research Center.
"While we are complaining about sitting in traffic, what is actually happening are human rights violations in other parts of the world," he said, "the economic and food crisis coincided and the oil spike was the final phase of the pre-food crisis bubble."
Malone reiterated that we haven't been focused on food prices because it's cheap for us here in Canada. "The risk is that we will become complacent," he cautioned, "the green revolution was built on false premises.   We are now paying the price for its wildly irresponsible use of water and toxic fertilizers."   Malone was the only panel speaker to bring up the important issue of water.
The Honorable Micheal Chong, MP for Wellington-Hills, is an advocate for Canadian farmers who are experiencing crippling effects due to farming subsidies, making baseline costs difficult to manage.
"We need to focus on the economics of agriculture, because farming has become wholly unprofitable," he said, "the security of food supply is in danger of relying exclusively on exports." Chong concluded by stating that basic foodstuffs that can be grown locally, should be grown locally as a partial solution to the food crisis.
The honorable Micheal Chong
Other speakers echoed Chong's sentiments, owing the current severity of farming issues to decades of poorly planned funding and neglect from both private and public sectors.   H.E. Professor Iyorwuese Hagher, Nigerian High Commissioner, told the audience of approximately 250 that we was feeling very food insecure.
"Food security is a state of being well-fed, the happiness-ability of food."   Hagher said, calling agriculture a high risk, unprofitable occupation: "there is a lack of infrastructure, which leads to an increase in poverty. "
"Nigeria is saying no to this,"  he chimed, "I am here to talk to you about hope" adding that the West should lead in redefining capitalism to help smallholder farmers in less developed countries.
H.E. Professor Iyorwuese Hagher
Hafez Ganem, assistant director-general of the UN's Food and Agriculture Organization, remarked that hunger and undernourishment is a structural problem: "there is enough food in the world, but the problem is that people can't buy it."   The failure to invest in agriculture is the root of the food security crisis.
"Agriculture has been neglected for so long," Ganem said, "we can't fight hunger unless we invest in agriculture."   Food production needs to increase if we are to feed the estimated population expansion of 3 billion "and we are in trouble if half of that goes to biofuel."
"Can we produce this much?" Ganem asked and replied "yes, we can with a big jump in agricultural investment."
The challenges are enormous and the fate of 1 billion people relies on the answers that resulted from this conference.   Chandra Madramootoo, Dean of the Faculty of Agricultural and Environmental Sciences and one of the main organizers for this event, hopes that this conference was well worth the effort for the people of the world who may not have had breakfast.
My next activity for you, then, is to learn more and see how you can be an agent for change by visiting some of these websites who work towards increasing food security.   Get involved.
If you're hungry, you don't have as much energy to work.   If you don't work, you don't eat.   If you have a family, that sucks.   If you're sick and your family is sick, then you're really in trouble.
I don't mean to lay the burden of guilt on you, but this is the reality of millions of people in the majority of the world, even in your own backyard.   Please find out more.   Each person has enormous capacities to make good in the world, just find out what moves you and move with it.