Honestly, he had me at St-Viateur Bagels. I had planned on asking Angelo Tsarouchas if he was a St-Viateur or a Fairmount man but decided to start the interview with a more general question: "what, besides seeing family, do you look forward to when you come back to Montreal?"
"St Viateur bagels," the Ottawa native who grew up in Montreal and now calls Los Angeles home responded without missing a beat, whenever my mom comes to visit, she brings me St-Viateur Bagels."
It's not the only thing this comedian and TV actor cherishes about his former home. He also loves the Habs, the fact that there are beautiful women everywhere, people who go out, dress up and have fun and Arahova Souvlaki.
While the first four may not make it into his act in this year's Just For Laughs Ethnic Show, the Souvlaki, or more likely other aspects of Greek culture, undoubtedly will. Much of Tsarouchas' standup routine focuses on his Greek upbringing and this year he's representing that upbringing in an event hosted by a Persian (Maz Jobrani) and featuring Italians, Jews and more.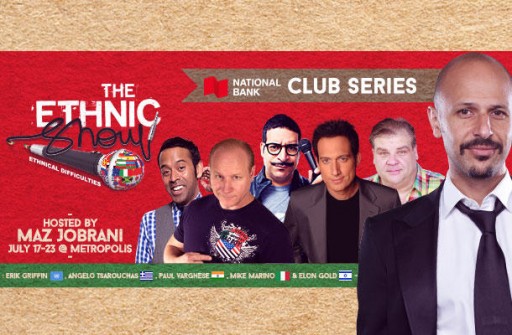 Tsarouchas, who hosted the show in previous festivals, is also representing Armenian culture this time out as he recently got married.
"I'm a Greek Canadian married to an Armenian American," he said. "I know, it sounds like a documentary. And they're crazy just like us."
That is a good thing, especially for his act.
"Familiarity breeds comedy," he explained, going on to recount meeting his wife's family, "they're all talking and I don't understand what they're saying but I can tell by the gestures. It's what I grew up with."
He also recounted the first meeting between the two families: "It was a lot of sniffing, like dogs at a park. A lot of checking each other out."
That's bound to make it into his act, as is the joy of being a new father.
"When you're doing comedy you've got to be in the moment of what you're doing," he said, "and now I have a kid."
Tsarouchas has performed comedy all over the world, but LA is most definitely his base of operation. I asked him how the LA and Montreal scenes differed.
"That's an interesting comparison," he responded, "Montreal has a great local comedy scene, a lot of great comedians come out of Montreal."
"There's a great local vibe here for comedy," he continued, "but it's in the shadow of this great festival, Just for Laughs, the most prestigious comedy festival in the world. Most people go to LA to get into film and television and ironically the guys in LA will fly us to Montreal to get us interest in LA."
Among the film and TV roles that Tsarouchas did get was a commercial and quite a famous one at that. Remember the "It's not delivery, it's Delissio (or DeJourno in the states)" ad? The one with the mobsters? Well, Tsarouchas was at that table:
"Everyone remembers me from that commercial," he said when I brought it up, "and I don't say a word."
Tsarouchas' act changes based on where he is. Montreal audiences can expect a particularly good show.
"It's not because I'm from here, not because I'm at the festival," he observed, "these are some of the coolest audiences you're going to play to. Montreal audiences are very savvy when it comes to comedy."
Angelo Tsarouchas will perform as part of The Ethnic Show in the Just for Laughs Festival July 17 to 23. Please visit hahaha.com for tickets