For fans of the majestic—yet fleetingly-open—Terrasse St-Ambroise, this was a landmark weekend.
After a soft launch on Friday, the historic McAuslan brewery flung the doors open to a brand-new pub: Annexe St-Ambroise.
Spurred on by devout local Terrasse clientele, I was on hand to check out the new Annexe St-Ambroise in its first evening of regular operation. Take heart, St-Henri folk, because the prognosis for your district is very good.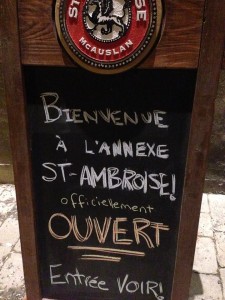 The tastefully-restored room, which will be open 5 days per week, year-round, strikes a superb balance between stylish renovation and elegant preservation of its original features. In resisting the temptation to over-hipsterize, the Annexe promises to fill a sorely-needed gap between run-down 60s brasseries and overwrought drinking havens in the hood.
Though the taps are limited to St-Ambroise and Griffon, you need not dwell on this fact. Limitations such as these keep prices down and pretensions low. And at $6 per pint, the range of eight beers is more than enough to keep you stimulated all eve—from the bright abricot ale to a wholesome oatmeal stout. The simplicity of the offerings, combined with an uncomplicated bar staff, and the aforementioned décor, make for something truly lacking in town: a new pub. The thing is, I don't mean retro-bar, gastropub, or reinvented bistro. I just mean a pub.
You'd be shocked at how few exist.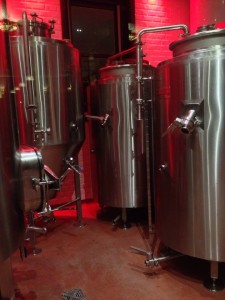 Another useful pub element of the Annexe is its nice mix of longer tables (for small groups), and two-seaters or stand-up counters (for couples). But the pièce(s) de resistance? The wooden booths, whose height and stature (I'm sad to say) puts even stalwart Irish Embassy to shame. Two men in blazers and ball caps broke away from their chattery crowd to occupy one of these sacred booths—leaning in closely to discuss something private.
There's even a food menu (nachos or mustardy pretzels). But take heed: the Annexe should only be considered a dinner joint for those desperately hungry… or drunk.
I mean, I get where they're going with with pineapples in the nachos, but they need to tone it down by about two thirds. Unmatched as the fruit should have been by meat of some kind or at the very least a sharper cheese, the oversweet lumps destroy this otherwise passable pub plate. If you want to do the pineapple thing, perhaps in the salsa, guys? But keep it subtle, please!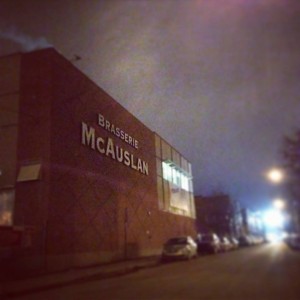 Finally, the floating back balcony gives you a primo view of St-Henri lore, with the Canada Malt plant looming to the east and the McAuslan loading docks stretched out to the south above the canal (trailers included). A sentence like that is doomed to reek of sarcasm, but in fact I'm 100% sincere. This odd floating hub was actually stage to some of the most fascinating conversations of the night, and made us feel connected to where we were drinking, a longstanding brewery on a strip with its own particular industrial legacy.
The Annexe St-Ambroise occupies the old Centre St-Ambroise, a historical centre for the brewery (5080 rue St-Ambroise), and is open 4:00 pm – 11:00 pm (Tues. – Thurs) and 4:00 pm – 1:00 pm (Fri. – Sat.).