"The social crisis is behind us."
Quebec Premier Pauline Marois made that statement yesterday, concluding her party's Summit on Higher Education at the Arsenal in Griffintown. Later that same afternoon, as teargass reigned down on peaceful protesters at St-Denis near des Pins, it looked more like the social crisis was a few blocks north and a number of blocks east of where she was speaking.
Did Marois really not see this coming? Did she think she could raise tuition and no one would hit the streets?
Well, protesters did take to the streets of Montreal. Estimates had the crowd anywhere between five and twenty thousand.
The red squares were back. Anarchopanda was back. This was a festive protest boasting the kind of numbers seen late May 2012 as the Maple Spring was really starting to heat up, only it was a few months earlier and there was snow on the ground. The perfect kind of snow for snowballs.
Turns out snowballs and riot cops aren't a good mix. When a few protesters, whether intentionally or not, threw their soggy projectiles in the direction of the police, things turned ugly: teargass, noise cannons, billyclubs, arrests and claims that the protest was illegal from the get-go because protesters didn't provide a route. Now, another well-known element of last year's Maple Spring was back as well: police repression.
But wait, wasn't Marois personally offended by Bill 78? Didn't she promise to repeal it? Well, yes, Bill 78 is no longer on the books, but then again, technically, it was never even enforced. All those arrests last year in Montreal for being at an illegal protest because no route was provided, well, they were officially made under a municipal bylaw that mirrored some of the more egregious elements of 78, not the infamous bill itself (in Quebec City, arrests were made under the highway code).
So Marois was offended by Bill 78 but has no problem using a bylaw that does exactly the same offensive things? Makes sense. After all, she repealed Charest's tuition hikes on her first day in office as she had promised, then brought in her own tuition hikes a few months later.
But wait, these increases only amount to $70 a year or at least that's what right-wing media outlets keep reminding us. Really, who cares how much it is, it's an increase and that's the point. While the much larger amount Charest wanted to impose all in one shot may have made it easier to mobilize such a massive student base in the early stages, the Maple Spring was, at it's core, a protest against the very idea of a tuition increase and by extension, austerity.
To put it bluntly, for a politician to give the student protesters what they want, they would have to lower tuition with the ultimate goal being free education. To merely avoid more protests, they would have to, at the very least, maintain the freeze. Just one penny in the wrong direction and people will take to the streets.
That much is clear to me and most casual observers and it should have been clear to Pauline Marois, too. I think it was. I think she knew all too well that people didn't vote for her so she could pay lip service to what students and their allies were demanding; in fact, they didn't vote for her at all, but rather against Jean Charest and it looked like the PQ had the best chance of replacing the Liberals.
She might have figured that it would be easy to distract people later on, make them think the PQ came to power because of sovereignty, language or some other issue that Quebec politicians have used to distract the discourse for decades. The problem is that with a game changer protest like the Maple Spring, people aren't as easily fooled or silenced. To paraphrase one of the signs held up yesterday, people didn't stay the course and stay in the streets for six months just to accept another hike.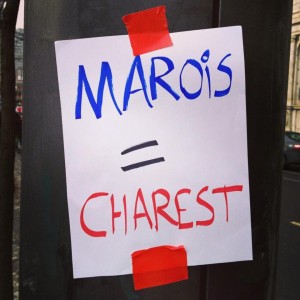 Sure, not all student groups were at the protest yesterday, just ASSE (the largest and most radical group which formed the CLASSE last year). The other groups were at the conference itself, fighting for a freeze. Now that they were denied, I wouldn't be surprised to see them don their red squares again, despite former colleague Leo Bureau Blouin now sitting as a PQ MNA.
Even if they don't, the student protesters have the support of unions, teachers and others. Who knows how many more will join?
Hell, maybe even anglo rights activists will realize that the goal of free post-secondary education is a better place to put money than the Office Quebecois de la Langue Francais, wash out the pots they just used to cook pasta and start banging on them in the streets. It probably won't happen, but hey, a progressive anglo boy can dream.
Now that the old tricks don't seem to work anymore and the new boss is protested just as quickly as the old boss was, the future possibilities are wide open. Maybe Marois was right and the social crisis is indeed almost behind us, but the social revolution is right ahead.
* Top photo by Iana Kazakova, other images courtesy movementetudiant.info