"Have you heard the news?
I am bigger than ants!"  – 'Big Gigantic Body', The Anthony Hansen Problem
There is nothing in the city right now like The Anthony Hansen Problem. Despite being a newly formed act, they came in at #9 for both "freakiest" and "most pretentious" musical act in CULTMTL's Best Of Montreal 2016 poll.
When, in mid July, I made my way to Casa del Popolo to see The Anthony Hansen Problem play alongside BoyJune (now Beloveds), The Island of Misfit Toys and Commander Clark's band, I had no idea just how much fun I'd be having. This show with its greatly slotted bill was hands down the best musical time I've had in years.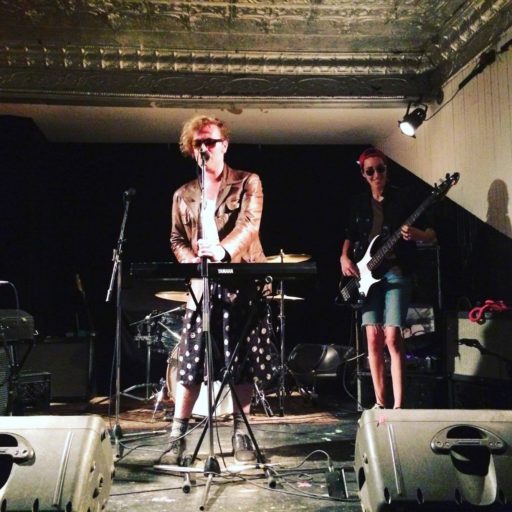 Part performance art and part brazen ego comedy pop rock, The Anthony Hansen problem is is a hard act to describe. A friend of mine, Cas Kaplan of Boyfriends, aptly describes them as 'absurdist new wave' and 'glamaged'.
Recently transitioned from solo act to three man show, The Anthony Hansen Problem is Anthony Hansen (keys, vox), Noemie Kinney of Nanimal (bass), and Evan Magoni of Boyfriends (drums). The decision to switch from one man show to a trio was one that Hansen made after carefully consideration:
"I definitely had a period where I kind of stopped playing for a while and tried to rethink my approach because in as much that people told me it was entertaining to see me doing the one man thing I knew I couldn't sustain it," he explains, "It wasn't any fun and I'm basically enjoying myself a lot more now that I have people to bounce ideas off of and it just it feels less like I'm dwelling within an echo chamber."
One of the major factors for the switch was the limitations brought on by using a backing track:
"The backing track is not gonna stop, it's not gonna allow you to banter with the audience. I was sort of really shooting myself in the foot because I was just putting songs back to back to back and not giving myself any breathing room. People even told me they couldn't tell where one thing ended and other began the pace was way too manic. I think this is the issue when I generally do projects entirely on my own I just get so kind of, I topple over under the weight of my own ambition when I don't have people to reign me in."
Hansen met Magoni and Kinney through musical circles whereby they found mutual admiration of each other's musical stylings and that the two genuinely liked what he referred to as his ridiculous songs.
"For this specific project, I build off of what strikes me as an interesting phrase," Hansen describes, "I'm taking one specific phrase that sounds like it could be a hook in a song and then just constructing lyrics around it. A lot of times what I do is I'll take that phrase, write free associatively based on what it makes me think of, and then loosely organize that into a song like structure. That's part of why a lot of my songs involve me talking and not really rhyming, because most of what I write is stream of consciousness and then edited together after the fact."
Of the performance and pretentious aspects of his project,  whereby each song seems to come from a very odd backstory, Hansen remarks:
"I tend to write in character a lot and a lot of the characters I write for are unreliable narrators so it's essentially just you know and like, I remember Andrew (Boyfriends, Smokes) said that the song All This Techonology is Making Us Antisocial made him think of just being trapped in a car, some vehicle, with someone who is talking At you and not registering your discomfort."
He adds,  "There is a lot of that in my music. I think it gives me a freedom to write from the perspective of people who don't, I guess, have the same social inhibitions that I do. It's a way of embodying things that I could not get away with in my normal life. Just being this like very strange, very alienating kind of figure. It's fun to sort of play with that and just you know, write as someone who deliberately breeches social boundaries within a performance context."
In terms of what is next for The Anthony Hansen Problem, Hansen says he is really enjoying the band's current momentum. They've played three shows in three weeks and are about to head into the studio to record.
"To be honest,  I like working quickly, you know, just keeping things moving. I'm really someone who can't relax or stay still so I kind of constantly have to be tinkering with things. I mean, that's the goal as much as anything is to just always have this outlet that I can turn towards and if other people like it that's great too."
"I can promise you though," he adds with a playful grin spreading across his face, "if someone comes along with like a shit ton of money to give us, we are going to sell out all the way. I'm just gonna start making the worst and most vacuous music I possibly can. Probably break up. Then go on a reunion tour that outlasts how long we stayed together originally."
Catch The Anthony Hansen Problem at Barfly tonight, August 8, 2016. Show starts at 9pm. 7$