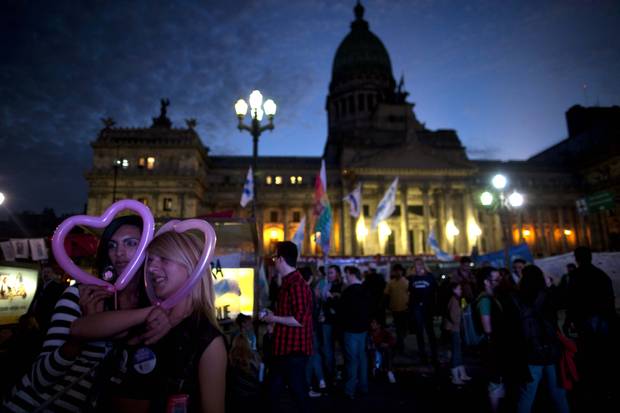 Argentina became a world leader in transgender rights this week by legally giving its citizens the freedom to change their gender without having to obtain permission from a medical professional or undergo any physical changes. The landmark new "Gender Identity" law, which won congressional approval in the Argentinean senate by a staggering vote of 55-0, also stipulated that public and private health care plans must provide coverage for hormone therapy and gender-reassignment surgery.
No other country in the world has made as bold of a statement about gender autonomy.
"The fact that there are no medical requirements at all – no surgery, no hormone treatment and no diagnosis – is a real game changer and completely unique in the world. It is light years ahead of the vast majority of countries, including the US, and significantly ahead of even the most advanced countries," said Justus Eisfeld, co-director of Global Action for Trans Equality in New York.
Under the new law, Argentineans will be able to select their gender on official documents and identification, and the government is legally required to recognize their choice. This progressive step is one of many by President Cristina Fernandez, who was the first Latin American president to legalize gay marriage two years ago.
In Canada, people can only change the sex on official documents such as their passport by providing medical proof of gender-reassignment surgery, a costly procedure that many in the transgendered community cannot afford. However, this may soon change, as La Presse reported that Passport Canada is reviewing their policies concerning gender indication on passports.
Right now, the details are unknown of exactly what changes are being considered for the new passports. Perhaps Canada will follow suit with Australia, who has three official gender designations on their passports: M, F and X. This decision prompted the United Kingdom's Identity and Passport Service to consider not displaying the gender at all.
Or perhaps Canada will simply loosen its restrictions concerning gender identity versus expression. Last July, a series of changes to the Aeronautics Act made it seemingly impossible for transgendered people to fly, by deeming that an airline is not permitted to seat a passenger if "the passenger does not appear to be of the gender indicated on the identification he or she presents."
One Canadian MP is determined to put an end to this type of prejudice and judgment based on the grounds of gender identity. Randall Garrison, NDP MP for Esquimalt-Juan de Fuca (B.C.) put forth a private member's bill to "amend the Canadian Human Rights Act to include gender identity and expression as a prohibited ground of discrimination" and would allow aggravated circumstances to be taken into consideration at the time of sentencing in crimes where gender identity is a factor. The debate on this bill will resume in the house in May.
Photo credit: AP Photo/Natacha Pisarenko