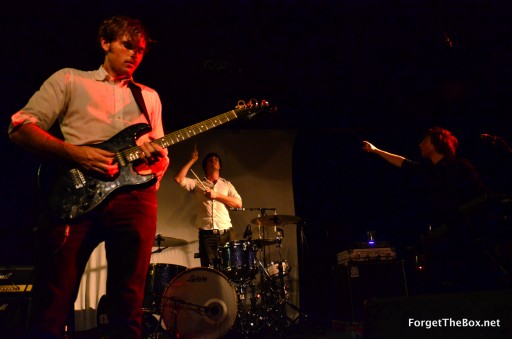 The only time I generally encounter this much bass is in a small car driven at high speeds by a young Italian hauling a trunk-load of sub-woofer. That's not a stereotype, that's my roommate in a nutshell, and he's proud of it, so no hate mail. This time though, I'm at Lambi on the Plateau scenescape checking Tanuki Project's opening set, and my beer is quaking Jurassic Park-style. Fair enough. I can totally dig a pretty girl screaming into her effects pedal over spleen jarring bass. I even think it's worth dancing too, but no one else seems to agree.
Their light show is black and white, partially projected onto the singer, who's also in black and white, and I remember from their website that it's not about black and white, it's about grey scale, because nothing is black or white….I stopped reading there; if you have to explain it, I don't give a shit.
The tunes are good though, and it seems a shame that when the lead lady goes to hype the crowd, she stops herself mid arm raise because all she's getting is the hipster head bob of approval from 30 peeps in seats. Literally 30; I counted. Still, there have been people stopping by the club for a couple of hours now to check in on when headliners Art vs Science will be on, so I know more are coming. My camera wielding cohort and I decide to buck the trend and get to dancing. Poorly timed, it being Tanuki Project's last song.
This place is so perfectly divey with straw hanging over the bar and something sketchy as ceiling covering, that I almost forget I can't smoke in here. When we pop back in, the place is full and lively, with people standing, ready to dance, which is awesome and about damn time. It's 10 to 11 and the show was supposed to start at 8:30. I have a lot to learn about the local music scene.
I first heard of Art vs Science about 24 hours ago, and when the group says it's their first time in town, I feel better about having been in the dark. When the tunes kick in though, I want to make up for lost time: can I be their biggest fan?
They're funky and dancy, and don't take themselves seriously; hipsters with humor. Even the guitarist/keyboardist who goes by Dan Mac, with his this-is-my-real-moustache moustache, as he gyrates for the crowd, manages to play the whole scene sans douchiness, as we scream and get legit stoked for his solo. Even my male companion says the guy is sexy. Theatrics and potential sex appeal aside, the man's a talented guitarist, and his french is pretty good too, which endears any Aussie to the Belle Ville.
I had so much fun I forgot myself, dancing both my hat and shades right off my head (these are not Kanye glasses, by the way; they're the plastic shades I had when i was a kid. Kanye's just about my age is all, and he has a better marketing team than I do. I'm working on it.).
I danced so hard I forgot to come up with witty metaphors about the music, which truth be told, I find hard to pin down to a pigeonhole (yay for my ears, sad for the writing of this article). I want to call them listenable dance, or call them compli-pop, because even though it sounds like it could blow up the radio charts, it's more textured than top 40, they just make it look easy. Wikipedia calls them dance-punk electro-house, which is true, I suppose, but hardly rolls off the tongue.
It struck me being hard to label is probably why their songs have wide appeal. Even the same song vibed differently throughout the room, with a contingent of people bouncing as though pre-mosh, and simultaneously more wow-man-my-arms-move-like-fire dancing than I've seen since the early 90s. By the end, one guy in the crown had lost his shirt, which is, in my opinion, a fair attestation to the band's awesomeness.
The joint went especially wild for Parlez Vous Francais, and Magic Fountain, conveniently the band's top Youtube vids, and a testament as to how we get to know bands these days before they make it to our city.
Talking to the drummer, Dan, he tells me the group's been together 3 years, admitting the North American market's been tricky to break into. I ask him cliche things like what his favorite place in Montreal is? They've been in town about a day, and are heading out in the morning, but he says that they managed to get to a great little place… if only he could remember the name.
A side effect of touring perhaps, but also an accurate portrayal of our city, I think; a string of so many small wonderful places that they blend. By this point though, I'm a few beers and millions of endorphins in, and the way my ears are ringing, everything sounds genius.
"Have you had any Montreal poutine?"
"It's the best in the world," he replies.
I want an Art vs. Science T-shirt.
The next day, I Youtube some more. I want to hear them again, but I'm also curious what their shows look like elsewhere. What I found were huge festival sized crowds, smiling and bouncing, fists in the air. Seriously? So these guys are used to what looks like a billion people and they still gave a full dose of showmanship in an intimate set to a tiny crowd? I'm smitten. I've seen some of MTVs finest pitch fits at live shows for less.
These guys've got heart, and I hope when they get the fame they deserve, they stay the stand up folks they are. Personally, my only regret is that they weren't selling merch at the show, and I'm still in want of a T-shirt. They'll be back; don't miss 'em next time.
* Photos by Chris Zacchia, for all the photos, check out our Facebook page