Hello faithful readers! I don't know if this is going to make me seem like more or less of a narcissist but I am going to be writing a monthly ASK CAT column for Forget The Box.
While I don't claim to be a real expert on anything in particular, I do know that I am real. I have been through a lot in my life and can use my experiences to help you with any question you throw at me.
I will answer you blatantly and honestly, without a filter, and completely from the heart. I will answer anything from questions about Sex, Dating, Politics, Art, Feminism, Activism, LGBTQ issues, Drugs, Culture, or anything else you can think of.
Email your questions to Cat@ForgetTheBox.net and I will answer them ASAP in a monthly blog entry. ("Ask Cat" sounds like "Ass Cat" when said out loud)
I threw this idea out there to my Facebook friends and responded to the first six questions I received (my friends are f*cked up). Here are the first three, with three more to come next time:
Dear Cat, what are your thoughts on art expression over personal issues with waste? I feel a calling to do a photo shoot in a giant tub full of blue cheese for the sake of art because I feel like the Buffalo chicken wing of life. My problem is I can't convince myself to waste all of that blue cheese. I recall some of your work with the Wesley Willis song "rock n roll McDonalds" and how you were able to incorporate food into the act. Some of the fries never made it to the mouth. How do we approach artist feats like this and overcome the guilt?
– Micheal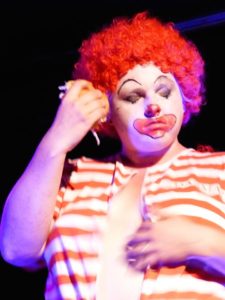 Hi Micheal! As you know I am very much against the issue of food waste in this world, I am a big activist for dumpster diving and Food Not Bombs, using food that would have otherwise been thrown away to feed the hungry. It is also true that I often use food in my performance.
It's a catch 22. I want to make a comment on shitty corporate food and the accessibility of vegetables and healthy stuff, but still feel bad for wasting. I am a hypocrite when I throw out rotten leftovers or put compost in the trash, I am even more wrong when I ejaculate burgers and toss perfectly good french fries into an audience, half to be smushed on the floor, or smash a 100 cupcakes on my body dressed like Marie Antoinette, cover myself in galloons of pudding in response to Bill Cosby, rub donuts on my boobs dressed like a cop, or dressed like Colonel Sanders throwing chicken at someone who is texting.
I make comments about greed, consent,corruption, body image, and corporate waste with my art. My vision is to participate in the bad parts of society on a stage so people can become aware of the abject horror of reality, kind of like John Waters. It's like there must be sacrifices made for the revolution to be a success.
Nobody is perfect all the time, myself definitely included. Of course I feel bad about the fries on the floor when there are hungry mouths to feed. I guess where I was coming from with that is the food I was "feeding" to people is shit food with no positive nutritional value anyways, so I feel less guilty about that.
I fully support the idea of you submerging yourself in blue cheese, make sure it's the good kind. Buy it, and put yourself in a claw foot tub in the middle of an art gallery. Lay in in naked, submerged.
Have plates full of chicken wings, carrots, celery, pizza, all the vessels for blue cheese. Invite people to dip in your tub, see how long it takes, see how far they will go for blue cheesy goodness. Will they lick it off of your body? People are obsessed with that shit. People also get weird in the name of art.
Document the entire thing. The exhibit ends when the food is gone, nothing is wasted, and you can probably get a pizza shop to sponsor you. I once wore a dress sponsored by Mr. Pizza. It was a collaboration with Melissa Campbell called Upper Crust Punk, we literally bit every slice of pizza. It was a cathartic, gross indulgence in the name of fashion, there was a spittune. I was empowered by food.
When we made the PBR corset, some of the PBRs were dumped down the drain because they couldn't physically drink anymore damn PBRs and there was a deadline. It was a sin! If I was there I would have shotgunned every single one of those PBRs, waste not want not,bro. Let them eat blue cheese! Let them scrape it off of your flesh!
Dear Cat, what happened last night? I know I showed up at the bar with $1.25 in quarters, the last shot I took made me black out, and I know I fell off my bike mounting on the way home because of a bruise on my arm and a scratch on my face. I think you were there dressed in white.
– Darren
Hi Daren! I remember seeing you at Nietzsches last night for the Stripteasers weekly bar show, I was dressed in white because we were doing a tribute to Prince and I was a crying dove.
What I assume happened is that people bought your fine ass some drinks, since the bar is cash only. You then were too drunk to bike and should have left your bike at the bar and gotten a ride home or walked.
Or perhaps you were abducted by aliens and drugged, not remembering the experience. The bruise and scratches were from the alien probing, not from a bike fall like you initially thought. Maybe I wasn't there at all and the "girl in white" was some kind of extraterrestrial being.
I cannot let you know for sure what happened to you, but am happy you made it home safe with minimal damage. Stay safe dude! Use the buddy system in the future. Or be like me and get a trike, I never fall off that thing when drunk riding!
Dear Cat, I think that you are the cat's meow! Were you always fearless or did you work up to it?
– Melissa
Hi Melissa! Thank you for the amazing compliment, you too are the cat's meow! I think have always been pretty fearless (sometimes stupidly fearless)! My parents are amazing and taught me to only speak my mind and fight for what I believe in.
As a little kid I was the one who stated the blatantly obvious. I was a little feminist, fighting to play football with the boys. I love myself and fight for those who are afraid. It's important to be strong and never give up on important things.
I am also a constant work in progress, I know that I continue to grow and learn each day. I can't say I'm fearless. I definitely get afraid of walking upstairs from basements, that feeling that something evil is coming up after you to pull you down the dark rickety stairs is real.
Got a question for Cat? Ask it: Cat@ForgetTheBox.net