The music started early for me on the second day of POP Montreal. Day one was still hanging around when I left my house in the form of a hangover and some pretty intense sleep deprivation. But coffee procured and the will to party intact, I made it to Forget the Box and Audio Blood's afternoon soiree at Divan Orange.
The first band onstage when I staggered in from the sunny afternoon was a one-man act called Revelstoke. A scruffy young guy with a perfectly-waxed moustache, Revelstoke is relaxed enough on the stage to experiment with sound and to banter with the crowd. He works with looping machines to layer together lines from his guitar, banjo, mandolin, harmonica, and assorted percussive bits and bobs. I personally have a soft spot for loopers, and so was smiling almost as soon as I stepped inside.
As the set wore on, I was not disappointed. He harmonizes with himself, scrapes a bow across his guitar strings, and the lyrics to his songs are poetic without being over-the-top—sweet and simple. He also, despite being from the Tdot, made an effort to sing a few lines in French and the result was charming. I'm happy to've made this discovery; Revelstoke was a folksy treat for my hungover ears.
Cai.ro performed for us that afternoon as well, but as a two piece instead of their usual six. The two onstage nonetheless rocked some tight harmonies and a surprisingly dense sound for being just two guitars. I'm not sure what they sound like as a six piece, but I think it's safe to say that if you're a fan of Fleet Foxes you'll find something to enjoy in Cai.ro's stylings.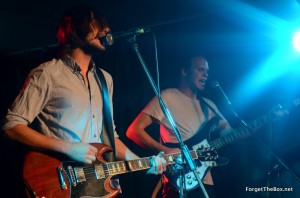 The afternoon began to fade into early evening and progressively harder bands began to take the stage at Divan. The four-piece Sandman Viper Command dished out some of their driving garage-rock. It had me tapping my toes even as it pummelled my poor headachey brain. Had they been playing at a later time, to a possibly more drink-filled crowd, Sandman definitely would have had a full dancefloor, but in the chill early evening, most of us just bopped our heads appreciatively.
The cabaret continued with Amos the Transparent's '90s-style rock, full of good grooves and interesting changeups, and then Dinosaur Bones with their throbbing, somewhat spacey style, built on effective rhythm switches and soulful singing.
Paper Lions finished off the night. This four-piece boasts an upbeat, almost Vampire Weekend-like vibe, with songs that are easy to bop to. All four members sing, the music has some engaging stops and starts, and can sometimes sound almost like '60s pop-rock. They also have a great energy onstage as they played a mix of their old and new songs. They just released their second album (ep?) which you can check out called At Long Creek.
With Paper Lion's rock came the realization that the second night of Pop was officially underway, and there was a long night of shows ahead. Trading coffee for beer, and after thanking the performers that made this show possible, we hit the streets for round two of this five-round fight!
Photos by Chris Zacchia
For more photos from the show check out ForgetTheBox on FB.