Wednesday April 4, 2012. Syntagma Square in Athens, Greece is bustling at its habitual frantic pace. A 77 year old man stands solemnly in front of the Greek parliament, holding a handgun. Then, he shoots himself in the head, putting an end to his life, and leaving behind a note: An outline of what had lead to the unfolding of this tragic end.
"I have no other way to react apart from finding a dignified end before I start sifting through garbage for food," he has written on the note.  His last wish was "to leave no debts to his children."
The fact that the 77-year-old pensioner shot himself in front of the Greek parliament wasn't a coincidence, it was a symbolic act. It could even be considered a "terrorist" act if we employ the same logic as the mainstream Canadian media has in the wake of the Ottawa shooting.
In August 2001, economic punishment claimed yet another life. Kimberly Rogers, a 40 year-old, 8 month pregnant Ontarian, died while she was under house arrest for welfare fraud, because of the restraints that the Ontario social services had imposed on her, under the directives of the Mike Harris government and the guidelines of the Minister of Finance Jim Flaherty.
Ms. Rogers only had a total of 18$ to spend on common necessities such as rent, food and hydro per month.
Unfortunately, these are not isolated cases. The correlation between the imposition of austerity measures that produce economic hardship on the most impoverished sections of society and the increase in suicide rates has been verified by several studies since the start of the economic recession in 2008. Most recently, a British conducted study claimed that austerity measures caused over 10,000 deaths since the start of the economic crisis. This just goes to prove that there is an undeniable link between economic conditions and mental health.
In the past few weeks, many have qualified the Ottawa shooting, a suicidal attempt in many ways, as an "act of terrorism," and yet, somehow, the events just described above do not qualify as terrorist.
Wasn't the shooting in front of the Greek parliament in itself an act of terrorism, for did it not instill terror? In the past few weeks many have come out stating the obvious: Michael Zehaf Bibeau had mental health issues. This being said, neither the mainstream media nor politicians have asked the real question that requires an answer: what was the cause of his mental health issues?
First and foremost, whereas the tragic crime of Michael Zehaf Bibeau can be qualified as terrorism, the desperate act of a 77 year-old pensioner in Greece can't. The reason is simple, the former's motive was to push for a political agenda, while the latter aimed to discredit the dominant political discourse.
The only difference I see is that Zehaf Bibeau committed a murder, which is a crime and is inexcusable. But both events, in terms of symbolic importance, are the same. They are both attacks on the political consciousness. But most importantly, they are both the manifestations of a profound sickness within the societies in which they took place.
At the end of the nineteenth century, amid profound social transformation unleashed by the industrial revolution, the forefather of modern sociology Émile Durkheim established the link—after an extensive study of suicide in France and Germany—between the changing economic sphere, economic marginalization, the weakening of social links and a sharp rise in suicide rates. The idea that dismal economic situations, extreme poverty and alienation in the workplace, which produced massive marginalization and a rise in mental health issues, was continued during the second half of the twentieth century by Michel Foucault, who wrote Madness and Civilization: A history of insanity.  In his book, Foucault elaborated that "folie" or mental health issues transformed in advanced capitalism. Further, Gilles Deleuze underlined in his works the correlation between some capitalist activities and schizophrenia.
Despite being very straightforward, the fact that our social environment, the structure within which we work and live, and the economic system that rules over our daily lives have very direct and real influences over our mental well-being has been completely shut out of the picture. Mental illness is certainly a fact. But exclusion, marginalization, and the social context in which both Martin Rouleau and Michael Zehaf Bibeau lived certainly had an impact on them, and thus on their actions. Once again mental health is used here an exit strategy. "He had mental health issues," and that's all there is to it!
Unfortunately this does not cut it, because both individuals seemed to "blend-in" perfectly with society—Michael Zehaf Bibeau was a exemplar student during his high school year. So, what brought about this tragic turn of events?
In Zehaf Bibeau's case, his obvious marginalization, economical hardship and difficulties of living a homeless life probably had a major influence on the young man and most certainly were factors that contributed largely to the deterioration of his mental health. Unfortunately, no importance whatsoever is given to those aspects that might have been the cause of his subsequent radicalization. The only thing the media has taken from the Zehaf Bibeau's story is that he was a Muslim.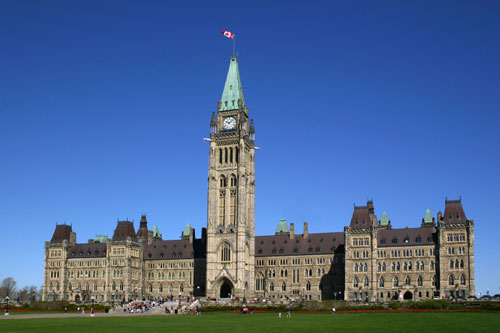 How many homeless Canadians are wandering the streets, today? How many Canadian families are terrorized by the fact that they won't make ends meet?
More than 800,000 Canadians rely on Food Banks to have some sort of "proper" nourishment. A staggering amount of Canadians live very difficult precarious economic situations. While the plight of Canada's most diminished has been soaring within the past decade, austerity measures have been applied across the board. Profound cuts to food banks and community services have been applied by various levels of government to "balance the budget." Provincial and federal governments have ripped apart the Canadian mental health system, and thousands of Canadians are in desperate need of affordable housing, and social housing. Some have said during the past weeks, that Canada got a taste of its own medicine: "Canada declared war and must now deal with the consequences."
But once again that is a form of criticism, which fits with the dominant political discourse that wants us not to question the austerity agenda. What if Zehaf Bibeau was radicalized not by ISIS or some video, with "cool" special effects on the Internet, but by the economical repression he lived on a daily basis?
Terror breeds terror, and so does austerity, in more ways than one.
A luta continua.