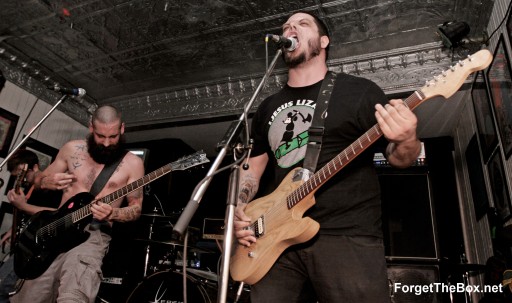 I have never seen a metal show at Casa del Popolo – but that doesn't mean it never happens, or that it wouldn't be a fantastic, mind-blowing experience.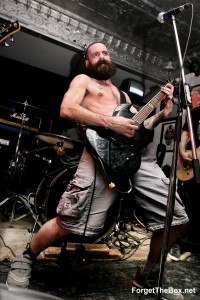 Initially, I was excited to hear that The Great Sabatini and Barn Burner were playing a show together, but how would their heavy sound fit into this smaller sized venue? It's not like Casa is known for metal shows, but it has built a reputation, over the years, for being a top indie music venue in Montreal. Could the walls handle these monsters of metal?
Headlining the show was Barn Burner. They're one of those bands that manages to impress you with their illustrative hair metal sound and make you long for the easy listening of the eighties. Their sound also has the sweet touch of stoner rock and 90s heavy metal influences.
Barn Burner played a few awesome tunes, mostly from their latest album Banger II: Scum of the Earth. This band was hard to classify but had a large following of
supporters at the show, shouting and wailing to their songs with names like Scum of the Earth, Dark Side of the Barn and Skid Marks the Spot. How could they go wrong? Well they didn't. They rocked the house! Check out their latest album from Metal Blade Records.

The Great Sabitini have been getting a lot of great press, and we're glad to be heaping on the praise. Lately their shows have been cerebral and exciting as these talented musicians, fronted by Sean Arsenian, are due for a great album soon to be released in the near future. Sabatini put on what many come to expect from their shows: a wall of sound that is quite experimental, engulfing the entire body in the inevitability of doom.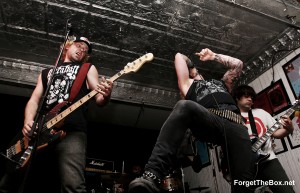 With my back against the wall and nose bleeding, I knew I was having a good time. Much of the packed house at Casa, which included doom-fiends, metal heads, rockers and dark hippies, covered the back and made getting a drink a difficult experience. But damn, could these boys belt it out! Check out their latest album Matterhorn and their other records on Bandcamp.
The Abyss put on a great performance and had great stage presence and a killer garage jean jacket 80s rocker look. Many of their songs traveled between the hard rock and heavy metal genres. They played their roles and their clothes fit well.
Opening the show was The Forum. They were hardcore whiplash metal on ADD. Every song ended within an allotted 50 seconds. It was a very interesting experience and the drummer really had a lot of stage personality. He slit his throat with his drum stick after every song just to show how cut-throat this band really is. They are definitely one of those bands with a great sense of humor and I would definitely want to see more of them in the future.
With the walls staying stable and my gut full of alcohol, my first experience at Metal at Casa was highly enjoyable. The sound is excellent at that venue and was able to handle the very powerful guitar cords and bass notes by these bands without oversaturation. The crowd dispersed, having received their metal fix for the night thanks to the awe-inspiring combination of these bands, taking us on a tour of the different sub-genres of metal while complimenting each-other really well.
* Photos by Phyllis Papoulias, see the full set on our Facebook page