I've been writing this article in my head for about four years. See, I have a dirty little secret friends. No, not that thing about the rabbit and the French maid's outfit, I'm rather proud of that one. No, what I'm referring to is this.
I'm not entirely keen on director Christopher Nolan's Batman movies.
Yes, I know, shocking. Like most of the nerd community I should be waiting patiently in the "french-kiss Christopher Nolan" lineup, but no. I take issue with his interpretation of our favorite nocturnal echo-locating flying mammal-themed crime fighter.
And as a result, I'm not exactly choking myself with anticipation at the upcoming conclusion to his "epic" trilogy. So I've decided it's time to put my money where my mouth is and tell you why exactly I think Batman has still NOT been definitively captured on movie-screens in a multi-part special.
Saddle in folks, it might get vitriolic
Christopher Nolan's Batman is not MY Batman
I know this sounds a tad weird, but hear me out. See, despite some claiming that this is "the definitive take on the Dark Knight", it really really isn't. As much as Nolan "gets" the character, there's a metric ton he either overlooks or purposefully avoids. And in my opinion, some of the stuff he leaves out are some of the most important and defining elements of the character.
Nolan's defenders argue that this is just "his take" on the character, and I respect that. But the problem is, I don't want Christopher Nolan's Batman. I want MY Batman. I want the Batman you read about in comics, play in video games, and watch in animated tv shows. Well, just one particular set of animated tv shows.
Let's start at the beginning. My Batman is kind of a renaissance man. He's the world's greatest detective, a master ninja, a near unbeatable martial artist, an olympic-level acrobat, and a master of countless other skills and practices.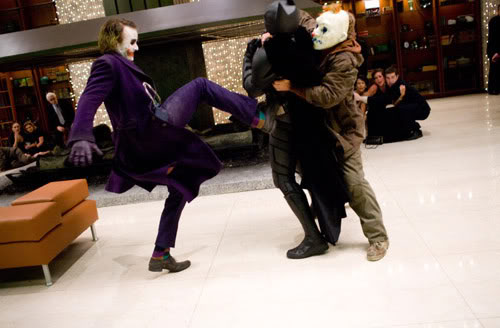 Chris Nolan's Batman seems more like he took a really strenuous weekend correspondence course in most of these practices and makes up for the rest with gadgetry and equipment.
Take the detective thing, for the first example. Do you remember a time in any of the Nolan movies where Batman displayed any kind of extreme deductive skills or aptitude? Where he took a series of seemingly random clues and deduced exactly what was going on? Honestly, I can't.
Sure, he does some investigation, but a lot of it involves putting things into convenient "find the badguy" machines. Take his big plan from the end of Dark Knight, for example. WHY exactly does Batman need to rig up every cell phone in Gotham to find the Joker? So Nolan can shoehorn in an endorsement of the Patriot Act?
My Batman doesn't need that. My Batman is BATMAN. He'll scrape some gravel off a Joker goon's shoe and instantly know what construction site it came from. That's what he does, he's BATMAN. Sure, he'll use high-tech gadgetry, but not to do his detective work FOR him.
Moving on to his fighting prowess, I always noticed how Chris Nolan's Batman, well…he gets his ass kicked. A lot. I mean, can you remember a time in any of Nolan's Batman movies when he gets into a straight-up fight and just owns the other guy, in a really impressive and dramatic way? Not shaking down a mob-boss, I mean fighting a goon or something. Part of this is the direction, which I'll touch on later, but there's more than that.
See, Nolan's Batman, as well as every live-action Batman since Tim Burton's day, wears a lot of protective armor. And the thing about that is, the movies tend to try and justify his armor, meaning they put him in situations where you see why he needs it.
And Batman doesn't need armor. He's BATMAN.
He was trained by ninjas, even in the Nolan movies. He doesn't take hits, he avoids them! That's how Batman fights, and that's what's cool about him, at least to me. I'm not interested in Christian Bale flailing around in a rubber suit getting punched in the face by rent-a-goons. I'm interested in BATMAN, the guy who can take on a room full of guys and take them apart without breaking a sweat, and look awesome doing it. That's the Batman I find interesting, the one who'll put me in a theater seat.
Again, this is where the Nolan defenders chime in. "But it's supposed to be realistic!" they cry, their voices tearing my ears apart like a cheese grater. To which I reply
Fuck realism
I just really don't understand this love of "realism" in superhero movies, a trend Nolan seems to be the posterboy for. If I go to a Batman movie,
I don't want realism, I want BATMAN. I want a movie about a guy dressed as a bat fighting bad guys who use laughing gas and freeze-rays. Throw in an occasional human crocodile, go nuts. It's BATMAN.
Again the Nolan defenders cry out. "But because it's realistic you can tell serious stories!". My response to that being "Since when is realism necessary for serious storytelling?" I mean really. Does a movie have to be set in boring old reality to tell serious, important, affecting stories? Easy answer, no.
And I have years worth of comics, novels, video games, movies and countless other examples that prove otherwise.
Again, that noise crops up and my ears start bleeding. "But now Batman is serious! The movie got nominated for an Academy award!". My response, my patience beginning to grow thin, is simple.
I always took Batman seriously.
And before you argue that now the rest of the world takes Batman seriously…..do you really think I give a shit about the rest of the world? I don't need Batman being "realistic" in order to validate him as a character to the "normies". I really don't care what the average joe or a bunch of old men who run an award show think.
And on that note, I've run out of space. Tune in next week, same Bat-day, same, Bat-website!