As I m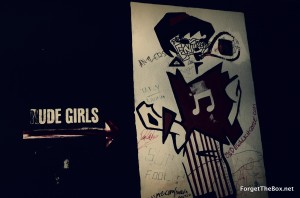 ade my way into the packed Horseshoe tavern on Friday night, a giant smile was plastered across my face. Not only do some of my favorite people live here, but after reporting on the film fest portion of Canadian Music Week last year I've been eagerly looking forward to returning to Toronto to covering the main attraction: music! glorious music! While my FTB colleagues ran frantically around town like chickens with their heads cut off, I headed down to the Horseshoe Tavern to check out the Arts and Crafts CMW showcase. It was a mixed bag musically; but thankfully it's impossible not to have a good time when you have good friends, beer, and your favorite dancing shoes.
The first act was Snowblink from California. The lead singer was a lovely, pleasant young woman but I felt her kind of music was better suited to a quiet evening in a coffee shop as oppose to a opening act at a rock club. Snowblink would be a perfect soundtrack to those rainy Sunday afternoons when you want to clean your apartment. But I have to admit that after spending 6 hours on a train to get here I was ready to rock out, so I was a little disappointed.
The next act, Gold and Youth, was more promising; as the boys did their sound check, the area in front of the stage began to grow significantly; people were definitely interested in seeing what they had to offer. And so we waited. And waited. I admit while being caught up in the frenzy I quickly lost interest the longer this band took to set up their set. When they did come on the boys did a perfectly good yet sadly perfectly generic set. My friend Alex described the band perfectly when he quipped "It's like if Sam Roberts made dance music" It was by no means bad, but it was the same kind of rock songs you've heard a million times before.
After getting lost in conversation catching up with my Toronto International Film Festival co-workers for awhile, I decided that it the Arts and Crafts showcase had failed to win me over and it was time to move on. (I learned later on that evening that I should have stayed a little while longer because several people told me that Zeus gave a kick ass set).
I said goodbye to my TIFF friends and headed off to catch the latest performance from The Triple Gangers. I have no shame in declaring my undying love for this band and have to admit while I was sad afterwards to miss Zeus, you never regret going to a Triple Gangers show. The vibes were delightful in the tiny, sweaty venue (I would offer the name of the venue if it hadn't been 2 am and many drinks in before I arrived) and immediately upon arrival I found myself shedding my layers and gleefully dancing along to the high energy beats. While it all may have started out kinda lackluster as soon as I saw Aurora, Ghislian and Ida (aka the Triple Gangers) start to paint each other with war paint during their set, I laughed aloud and declared the evening a roaring success.
For all our Canadian Music Fest coverage or all our photos…