At a recent press conference, Christian Yaccarini, the president of the Société de développement Angus, defended his plans to replace venues on the lower Main with an office tower by promising that he would try and relocate the artists currently performing at Café Cleopatre.   However an e-mail from Yaccarini to supporters obtained by Forget The Box raises doubt as to whether the developer considers the performers he is trying to evict to be artists at all.
Angus press conference, shortly after the e-mail was sent
"It's a strip club with video poker machines," Yaccarini wrote about Café Cleopatra, "once a month the Cleopatra gives its room to so-called artists who organize a Fetish night." (translated from French)
The e-mail was sent shortly after one of the public consultation meetings where Café Cleopatra performers along with historians and citizens spoke out against the developer's plans.   In it, Yaccarini refers to the proceedings as a "psyco-drama" and laments that all three of his proposed projects, The Quadrilatère, the 222 and a new development on the vacant lot next to St-Laurent metro, may go the way of the proposed Casino in Pointe-St-Charles because of a strip club and a handful of university professors.
Members of the Dead Doll Dancers speaking at the public consultation
His approach, while much more abrasive, is similar in tact to that of Montreal Mayor Gerald Tremblay who recently came out in full support of Angus' plans.   Both of their arguments give equal and in some cases more importance to the 222 project, scheduled to be built on a now vacant lot on the southeast corner of St-Laurent and St-Catherine and house artistic projects and a radio station.
While far from being accepted by all, the 222 (and the project next to the metro station) do not enter into the arguments being put forward against the Quadrilatère, scheduled to be built on the southwest corner of the same intersection and house Hydro-Quebec offices.   This is because it is not being built on an empty lot but rather in place of three venues (Cleo, Les Saints and Katacombes) and the historic Montreal Pool Room restaurant.
Yaccarini's e-mail also makes some factual errors about just who is opposing him.   His statement claims that Cleopatra only gives emerging artists use of the space once a month, which most likely refers to the fetish shows by Club Sin.   It ignores the weekly drag queen shows and acts like the neo-burlesque performance troupe the Dead Doll Dancers who spoke at the public consultation Yaccarini silently attended.   Possibly they are the "strippers" Yaccarini sarcastically refers to as "speaking of the importance of this august institution." In fact, Yaccarini ignores the fact that rather than giving some of its space to performers once in a while, the entire upper floor of Cleopatra is reserved for emerging artists.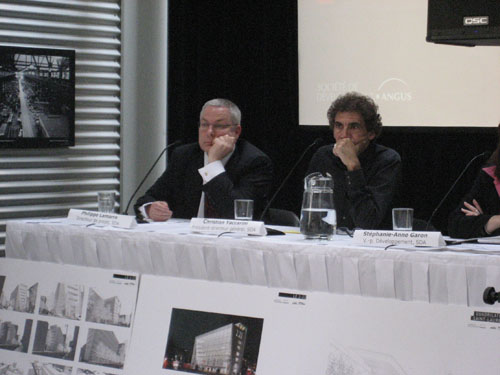 The e-mail's author Christian Yaccarini (right) at the Angus press conference
Yaccarini concludes the letter by saying that "we can hold panel discussions and conferences on what we need to do, but we also must do it."   Does this mean that Yaccarini sees public consultation on the future of a historic site to be a mere triviality that he must contend with?   Does he feel that as a developer with money, the final decision rests with him and his business associates, despite what people think?   If the pubic is deciding what is to become of a section of our historic street, how can something a developer wants to do be a "must" rather than an option?   Can the fate of our collective heritage and our living artistic culture be decided behind closed doors?
Photos by Chris Zacchia
The full text of the e-mail is below and as a PDF.   Grammatical errors are left intact for the sake of authenticity:
Chers amis, collaborateurs, citoyens,
Après l'échec du casino de Montréal nous risquons de vivre un autre échec à  Montréal soit celui de la revitalisation du boulevard Saint-Laurent. Et si il y a un secteur de la Ville qui est une véritable honte et qui a besoin d'une revitalisation c'est bien ce secteur.
la Société de développement Angus tente de redévelopper le tronçon du boulevard Saint- Laurent entre le boulevard René Lévesque et le boulevard Maisonneuve.
Nous avons trois projets : Le premier au coin Ste-Catherine et Saint Laurent côté Est : Un édifice à  vocation culturel avec une architecture haut de gamme.
Le deuxième est un plus grand projet, un projet de 160 millions$ qui vise tout le pâté entre le Monument National et Ste-Catherine. Un édifice comprenant au RDC des commerces tant sur Saint-Laurent, que sur Clark, que sur Ste-Catherine.   Des nouveaux commerces qui viendront offrir aux montréalais, aux touristes un lieu de destination. Commerce responsable, restaurant, bistro, club de jazz, boutiques etc. Et 300 000 pieds carrés de bureaux pour Hydro-Québec. Nous intégrons la dimension patrimoniale au projet être autre en intégrant les façades et en redonnant vie à  ces dites façades. Le projet se divisant ainsi :   trois étages avec intégration des façades et commerces au RDC. En arrière de ces trois étages on va retrouver le dix étages bureaux.
L'architecture de ces deux projets a été confié au grand architecte français Paul Andreu (L'Opéra de Beijing) et Aedifica et Gilles Huot.
Le troisième projet est sur le terrain du Métro Saint-Laurent (terrain vague depuis 50 ans) où nous ferons un deuxième édifice culturel avec entre autre l'ADMII, le cinéma Parallèle (cinq salles) et des écoles liées aux domaines des arts.
Donc deux projets culturels dans le quartier des Spectacles, un complexe commerciale développé avec grande finesse et Hydro Québec.
Nous vivons présentement via les consultations de l'Office de Consutation de Montréal un véritable psycho-drame. En effet le bar de danseuses nues le Cléopâtre réussit à  se positionner comme un icône de la Main….C'est un bar de danseuses nues avec des machines vidéo poker. Une fois par mois le Clopatre donne sa salle à  des «soits-disants artistes » qui organisent des fetish night (sorte de soirée exhibitionniste sado maso soft). Ces animateurs de soirées ont réussi à  mobiliser du monde pour la sauvegarde du Clépatre. Lors des consutlations nous avons droit à  des vidéos montrant leurs soirées fétiches, à  des danseuses du Clopâtre venant témoinger de l'importance de cette auguste institution. Nous avons le groupe Stella qui nous reproche de vouloir s'attaquer aux prostitués.
Sur un autre registre certains professeurs d'architecture d'université viennent dire qu'il vaut mieux ne rien faire pour garder ce patrimoine. On parle d'édifice banale au niveau architecturale, en ruine. Bien que nous comptons reconstruire à  partir de ces édifices on vient nous donner des leçons de conservation patrimoniale. Et comme d'habitude Dinu Bumbaru va venir nous accuser de violer la patrimoine monréalais.
Ces projets sont exemplaires à  plus d'un titre. Je n'ai pas le temps ici de vous donner tout les tenants et aboutissants.
Mais si on laisse les choses aller ces trois projets ne verront pas le jour alors que nous sommes persuadés qu'ils répondent à  l'intérêt publique et qu'ils reçoivent l'appui d de la population.
Nous tenons donc une conférence de presse vendredi 10 heures à  Angus, au Locoshop Angus situé au 2600 rue William Tremblay pour remettre les pendules à  l'heure et demander aux forces vives de Montréal et à  la population de se manifester pour empêcher qu'un bar de dansesues nues bloquent ces trois projets. Bien sur il peut y avoir entre nous des nuances sur le nombre d'étages, sur la trame commerciale etc.. mais vient un moment où il faut se serrer les coudes et développer cette ville. On peut faire des colloques et des conférences sur ce qu,il faut faire mais il faut aussi le faire. Je compte donc sur vous, votre présence et si vous pouvez d'une façon ou d'une autre manifester votre appuis…c'est essentiel.
Amicalement
Christian Yaccarini