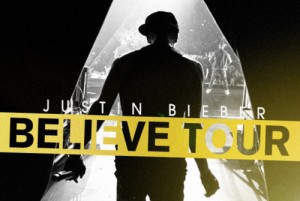 November 26, 2012.
A night I can promise you I won't ever forget- and neither will the other thousands of Beliebers in the Bell Centre that night. For those of you who don't know, that was the night that Justin Bieber was in Montreal to preform his show on the Believe tour.
I am just an average teenage girl, I go to high school, I play sports, I listen to music, but not just any music, Justin Bieber music. I am in love with Justin, he is my idol for so many reasons. Most people hate him for his hit song released in early 2010 called Baby. I'm sure most of you have heard it, and if not, people mocking it and the lyrics. But he's definitely changed since then.
So November 26th, was my first concert. The only word I could use to describe it is; perfect. I got there around 5 pm and waited at the doors, I was one of the first ones in with my friend and we bought our shirts and then got our seats. We didn't have the best seats, but I wasn't about to complain, I mean I was about to see my idol. The show opened with The Wanted and they sang some of their songs and then Carly Rae Jepson came and performed her songs.
After they left there was nothing happening on the stage for at lest an hour, but being a crowd of thousands of teenagers we sang all of Justin's songs together. After that hour of nothing all the lights turned off in the arena. About a second or two later a screen turned on signifying that there was 10 minutes until Justin came on stage. The screaming began once again as we were dying to see him. Once the clock hit 10 seconds and as it was going down everybody was screaming and yelling. I had never heard anything so loud.
When the clock hit zero it went silent and Justin came in hanging from the ceiling with a pair of wings, he stood still, we screamed and cried. Most people wonder why we cry when we see our favorite people in person, we should be happy shouldn't we? So why cry? Well we cry because we are happy beyond words. I was crying because I never thought that I would ever get to see him in person.
I have been a Belieber since 2009, and this was really a dream come true. After he landed on the end of the cat walk, he smiled and sang All Around The World followed by Take You, then Catching Feelings. After that he sang one of my favorite songs from him- One Time. I love that he sang his old songs and mixed it with the new ones.
It was amazing and the only thing I could have had to make it better would be either better seats or Meet&Greet passes. I am already saving up for the next concert, I can't wait. This boy is amazing.