Some people think maintaining a vegan lifestyle, especially when travelling, is hard. You know what, it's really super easy!
I had the pleasure of being chosen to work on a project in the magical Maui, Hawaii recently. Many of the restaurants we frequented had no vegan dishes on the menu. No problem! I tend to be a quiet person, preferring to keep things low-key, so I easily handled the situations discreetly. Once the waiter or waitress arrived to take my order, I mentioned that I did not eat animals, nor any animal products, and they were always super friendly and accommodating. They often simply made me one of their dishes without the cheese or meat, and other times, wiped up something especially for me.
For example, lunch at the luxurious Four Seasons in Maui at Wailea was a scrumptious, memorable experience. Although their vegan dishes were not on the menu, they happily prepared me a vegan version of their famous Niçoise Salad. The Niçoise Salad is usually prepared with tuna, anchovies and eggs. The vegan version omitted all of that and they served me some yummy tofu and a lovely sauce to accompany the salad.
Smoothies, always plentiful and popular in tropical places are often vegan, so no tweaking necessary. This delicious mango and pineapple smoothie was delightfully topped with an edible orchid!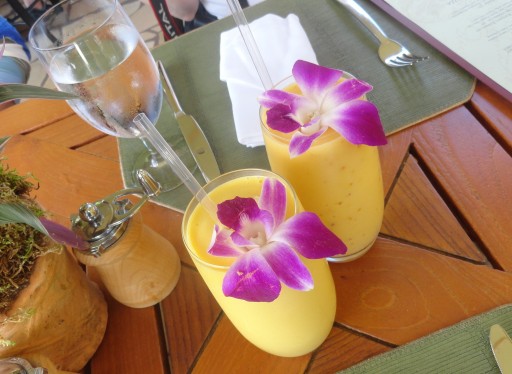 One restaurant we went to had a menu with many vegetarian and vegan options. Café des Amis is a delightful place to stop for a delicious meal in Maui. I chose the vegetable curry with basmati rice and mango chutney. Oh my deliciousness!
Having dinner at the world famous Mama's Fish House was also an enjoyable experience. Our cheerful waitress explained to us that all the fish on the menu, "were swimming 24 hours ago in the ocean." Oh that's great! For me, being vegan, it definitely wasn't an incentive to eat any of them! I thanked the humble fish (in my mind) for the culinary pleasure they were bringing to all the people dining at this renowned place and told the waitress my situation. She suggested a pumpkin soup and salad and I happily agreed.
The flight too was very doable as a vegan. I was on one of those flights where you have to pay for a snack or meal if you want one. They conveniently had one vegan meal option, which was a tasty hummus and grilled vegetable wrap. I found the airports I frequented were not the most vegan-friendly, but I managed as well. So, really, it was by no means impossible to maintain my vegan ways on this trip to Maui.
There is a distinction for me that I'd like to point out regarding a vegan diet. I made the decision to go vegan based on the knowledge I acquired about how animals are brutally treated in all these food industries. Deciding to go vegan, then, is more than a "diet". It is an awakening, a decision, a stand against injustice. People like me, therefore, cannot "make an exception" and eat a dead animal every now and then because it is convenient or available. Instead, we just look for alternatives. As you know, those who seek, find, always.
Recipe for the perfect Mai Tai for 2! 
2 tablespoons light rum
1 tablespoon dark rum
1 tablespoon 151 proof rum
1 tablespoon orange curacao
1 tablespoon almond flavored syrup
1 tablespoon simple syrup
1 lime, juiced
1/2 cup fresh orange juice
Aloha!
"Sometimes people think it is ironic that the English language only has one word for love, and that is "love", while the Inuits have more than seventy-three for snow. In Russian there are multiple words for degrees of love. So, too, in Hawaiian there are many definitions for the one word, Aloha, all meaning "love". Some of the dictionary words for Aloha are "caring", "affection", "compassion", "mercy", "sympathy", "pity", "kindness", "regard with affection", even "to desire". Also, of course, "hello", "good-bye" and "farewell".
~Kahuna Harry Uhane and Garnette Arledge, Wise Secrets of Aloha.
Follow Maria on Twitter and Facebook.
Top image: Vegan Niçoise Salad in Maui