We have some very exciting news to report: Bernie Sanders is the winner!
(pause)
The winner of the FTB US Presidential Election Poll.
Honestly, I was thinking of just using the first part as the headline of this post. Misleading? Quite. But if the Associated Press can do it, so can we. However, it could also be a bit of a mean tease to those (like myself) who were hoping for a Sanders victory in California last night.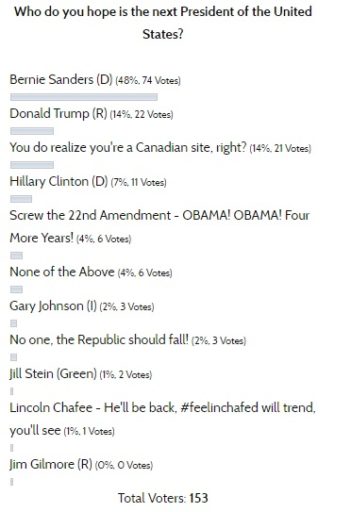 Near the beginning of the primaries, we asked our readers to vote for the candidate they wanted to be the next President of the United States with the promise that the winner would receive the official endorsement of FTB readers and a post explaining why they are the best choice. This is that post.
As candidates dropped out, we removed them from the available choices (except for Lincoln Chafe, I still think #feelinchafed will trend). Only Ted Cruz and  John Kaisich had actual votes when we removed them (two apiece).
With 153 votes cast, the Vermont senator and everyone's surrogate grandpa won the poll with a resounding 48%. Donald Trump was second (one only hopes ironically) with 14%, one vote ahead of "You realize you're a Canadian site, right?" Hillary Clinton got 7%, narrowly beating out a push for four more years for Barack Obama which tied with None of the Above.
So why did the majority of our readership pick Bernie? While I can't be sure of their reasons, I think the fact that he is a once in a generation candidate probably had something to do with it. Not only is he an inspirational speaker who brought income inequality, money in politics and the need for universal healthcare and a $15/hr minimum wage to the forefront of mainstream political discourse in the US, he also proved that socialism isn't a dirty word, at least when you couple it with the word democratic.
He is also very consistent in his talking points and has been for thirty years, a unique quality in legitimate POTUS contenders. He didn't change his views to suit the electorate, the public caught up with him. He then became the figurehead of a movement that started with Occupy.
His ads were not only powerful, but themselves revolutionary in their choice of speaker. Some of them featured people establishment politicians usually avoid associating with, like Black Lives Matter activist Erica Garner and Chris Wilson, a man who turned his life around after spending half of it in prison.
Sanders went from a candidate unknown outside of Vermont (and southern Quebec homes with Vermont and upstate New York affiliate stations) whom very few thought would even come close to being a contender to the man who won 22 states, seriously challenging a household name with an unparalleled political machine behind her. He also met with the Pope. And all of this in just a year.
Unlike politicians who drop out when offered a deal that benefits them personally, he has vowed that the struggle will continue right up to the Democratic Convention in Philadelphia. But the struggle is now more about entrenching the values of social and economic justice in the Democratic Party, a party whose establishment fought hard against a progressive shift in the primaries. With Bernie, it's about the issues and the movement or revolution. Not about him.
What path Bernie will follow after the convention is unclear, so is the next step for the movement he champions. What is clear is that Bernie has already had a yuuuuge impact on the American political landscape and political progressives around the world.
No wonder so many FTB readers are feelin' the Bern.