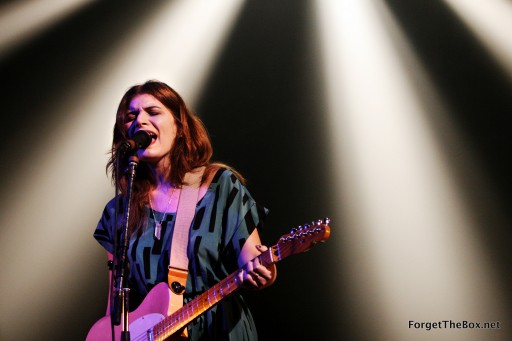 Just a few hours before Best Coast was scheduled to walk on stage at Le National last Friday night, lead singer Bethany Cosentino tweeted, "All remaining cities on this tour, you gotta sing extra hard cus my voice is trashed."
But with a setlist full of songs that are made for sing-a-longs and a pack of excited fans pushing towards the stage, they had nothing to worry about. They opened with "The End" and it was immediately clear that months of touring had taken its toll on Bethany's voice, but it didn't take away from the show. The extra raspy effect on her voice actually worked with their garage rock sound and added edginess to her emotionally transparent pop songs and ballads.
After apologizing in her strained speaking voice, the band continued with "Crazy For You", raising energizing cheers from fans of their earlier burnout beach bum days. They drifted through "Goodbye" and "Summer Mood", some stretched out slow songs from their first album, before moving on to "The Only Place".
The title track is a fast-paced tribute to California filled with imagery about the stunning landscapes that left Bethany breathless and probably a little homesick. The band dedicated their next song, "No One Like You", to Those Darlins, their opening band with a grungy, country feel. They've been one of Best Coast's favourite bands for years and both members talked about how happy they were to have a chance to tour together.
As band member Bobb Bruno confirmed when we talked last week, the songs are written solely by Bethany then sent to him usually by email to be filled out with guitar and drums – not surprising considering the content of the songs usually sound like the unfiltered ramblings of a teenage girl. When you throw in some pink neon lights and awkward dancing, their concerts have the potential to transport you back to high school.
It seemed like this was actually their intention, especially when Bethany referred to one of her favourite movies, Mean Girls, while introducing the bonus track from their sophomore album by the same name, "This one is about those friendships that just end and you don't really know why…has that ever happened to you?"
Best Coast managed to work through 20 songs about relationships with friends, boyfriends and their hometown in just over an hour. It was an impressive feat, or as Bethany described it, a "pretty good way to spend a Friday night."
*all photos by Phyllis Papoulias, check out the full set on our Facebook Page