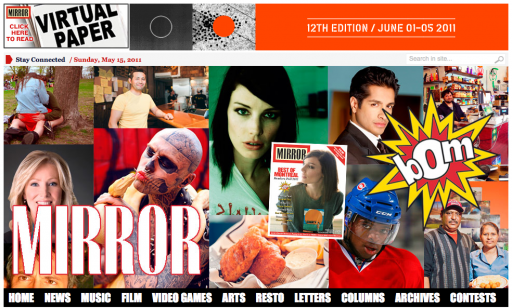 Mirror, Mirror on the wall, who's the third best local blog of them all? This week, the Montreal Mirror released it's annual Best Of Montreal readers poll. Forget The Box placed 3rd in the category of Best Blog! We would like to thank all our readers who voted for us as well as the good people over at the Mirror. Special thanks as well for including a screen shot of our website.
Congrats to all the other blogs that made the list this year. There are a bunch of great blogs on it, and we suggest you check some of these other sites. Here is a screen shot of this year' BOM Best Blog category (look, it's a screen shot within a screen shot… trippy).
So to everyone who voted for us, you all rock! A year ago we were a tiny blog working on web-videos with a few writers. We've now grown to over two dozen contributors and a publishing schedule of about three posts per day. We try really hard to bring you interesting content and are so proud that you guys have recognized our efforts 🙂
We'd also like to take this chance to give a huge thanks to all the writers, photographers and behind-the-scenes contributors – we lost count at 25 – who really gave Montrealers something to vote for. Congrats to you all and a big thanks to everyone who helped make this happen.
Let's all keep up the good work!
Oh yes, and we can be stalked, check us out on facebook.