Good Monday morning. It is the middle of the month, the ides of November. My Roommate, band mate and brother by choice turns 45 today, so, Happy Birthday to Steve   P. Frasier!
Now, on with the rant…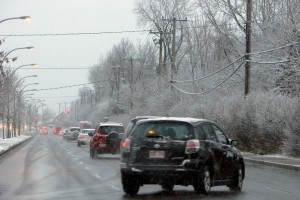 Is it just me or is it starting to get cold and wet outside and why does it seem to be getting dark a lot earlier than it should be? The reason is because at this time of year, the earth's axis points away from the sun, so we get less radiation. Precipitation begins to get colder until it starts to freeze. Then the truly evil season comes upon us. Things begin to die off, many go into hibernation and my car gets a constant salt bath, causing rust.
The cold makes pains harsher and causes shrinkage in places like the bladder. It is now very heavily taxing on the system of most people here and as a result, diseases begin to manifest themselves with a much stronger level of severity. It's no coincidence that more people die from natural causes at the beginning of winter than at any other time of year.
Winter is a harsh season. It is also an expensive season, seeing as we need to spend much fuel and electric power simply to heat our homes and businesses. We also must spend money and labour to winterize our homes and vehicles. Winter is a time of greater pollution as well, for various reasons.
I know, it's still autumn. Retailers are only just beginning to put the deliberately annoying annual forced feed and suppository showcasing of their greed and   avarice into play. I will, no doubt, have the same annoyed rant about it that I do every year.
Maybe if I was a skier, but I'm not one. I was soured on skiing in elementary school. If I skated, but my ankles can't take the pressure of skates without causing me pain. I don't like pain. I also don't like shoveling snow, scraping windows, or slippery sidewalks.
Of course, I was born in the middle of winter. I'm told I was born during a very severe snowstorm, one that other later snowstorms have been compared to.
Enough about that for now.
I have noticed that in sometimes laying bare my insecurities, I make myself appear weak and a sorry excuse for a human being. I find that I sometimes use the internet and my rant column on Forget The Box as a sort of psychologist's couch, except without any kind of confidentiality agreement. In fact, I sometimes slander myself and not always with positive return.
It's true   that I can be quite pessimistic at times, but when the glass is empty, don't tell me that you think it's full. It's full all right. Full of nothing but the air in the room. Life is like that sometimes. Sometimes one is forced to sacrifice the things that are most meaningful in favour of something frivolous and superficial, benefiting someone else exclusively.
I almost forgot to mention that the box is empty, so Forget the Box.   Forget the Box is having a fundraiser party on November 20th at club Vegas in the Plateau Mont-Royal. Come, donate, buy beer and donate some more. Forget the Box needs your support, as do all of the people involved who do this as a labour of love, on a voluntary basis. For those of you in the Montreal area, please support local alternative and new media, particularly grass roots organizations such as Forget the Box (you can also donate using PayPal). Thank you for your continued support.