Seriously, what else needs to happen in order for climate activists to convince decision makers to actually DO something to reverse or even ameliorate the effects of climate change?   Youth are fed-up.   The climate change issue is no longer a debatable factoid thrown around in the media as a scare tactic.   It is something real,anthropogenically induced and there has been an overwhelming amount of discussion on the issue, so much so that several generations down the line will be listening to the reverberating echo, wondering why we didn't act sooner.
This is one of the many reasons why 1,000 youth from 10 provinces and 3 territories traveled to Ottawa the weekend of October 24th.   There was a clear message: It's time to listen. This day on the hill, known as Climate Day, organized by Power Shift Canada, was a momentous day that drew supporters of climate action to support positive action for one of the most defining challenges of our time and was the largest gathering ever to take place in Canada to speak up for the climate.
This day was more than just banner waving and marches and was not only confined to Ottawa's Capitol region.   5200 activities in 181 countries mobilized for climate day of action in the most widespread day of environmental action to ever take place.
It is an event that the founders of the environmental movement, such as Greenpeace and Rachel Carson would have been very proud of.   Even CNN is calling it "the most widespread day of political action in the planet's history".
One important contributor to climate action day was 350.   The basis of 350 has to do with the science behind CO2 in our atmosphere.   What better way to make this crucially important number stick than to name your organization for it?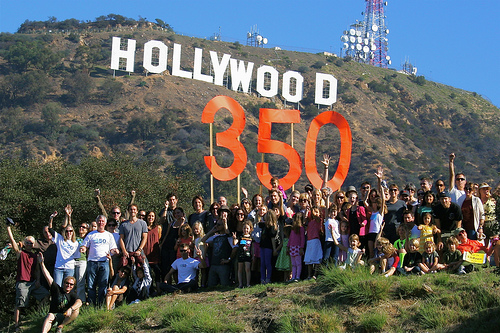 Scientists say that 350 parts per million CO2 in the atmosphere is the safe limit for humanity and we are currently at 387 ppm.   This effects every facet of life; from patterns of rainfall (you know, to water the crops that provide our food, clothing and nacho chips), seasonal shifts in temperatures, the ocean, fish and how quickly the emotional states of climate scientists and activists degrade.
The science has been publicized and mainstreamed, yet we are not seeing progress fast enough.   There is hope, though, if we look at other environmental catastrophes that we have diverted.   CFCs have been pretty much eliminated from the atmosphere due to a severe revamping of refrigerators and aerosol containers and DDT has been banned from use in most of the world.
One can speculate that one of the reasons these things progressed so quickly is that there is no direct profit gained from the atmosphere.   We can't mine or bottle it, so hey, let's save it and look like heroes.
Will history repeat itself?   Will our species reclaim the idea of stewardship towards our blue planet?   If October 24th was any sign of changing tides, let's hope that we progress with the speed of a tsunami.