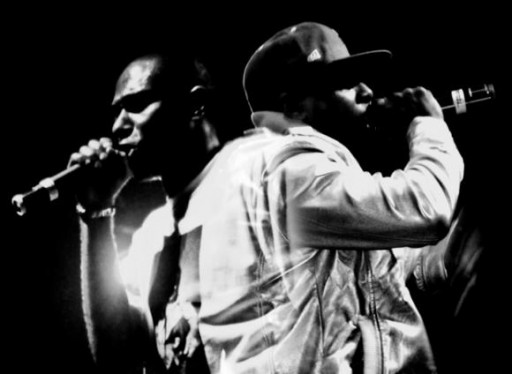 Black Star's tour is soon to stop in Montreal after performing on the Colbert Report as well as other cities around North America, and in case you're uninformed as to the group's history, please allow me to illuminate you.
The duo of Black Star is composed of Mos Def and Talib Kweli, who have each individually achieved significant success subsequent to their work together. Mos Def (or Yasiin Bey, as he's planning a name change at the end of the calendar year) has worked with countless legends throughout all genres, from Kanye West to the Black Keys to Gorillaz—but may very well be most well known for his impressive acting career, including appearances in such films as Monster's Ball, the Italian Job, and Be Kind Rewind, as well television roles in Chappelle's Show, House, and Dexter. Talib Kweli, while never taking the plunge into acting, has arguably garnered a more reputable hip-hop career. Also working with Kanye West, Kweli has collaborated with Common, Beastie Boys, Dilated Peoples, ?uestlove, and Dead Prez, among many others.
As Black Star, Kweli and Mos Def banded together in the aftermath of hip-hop's golden age. With the deaths of two of rap's greatest talents, Biggie Smalls and Tupac Shakur, the hip-hop community began a downward spiral that many argue has never stopped. Black Star's one and only album, Mos Def & Talib Kweli Are Black Star, in 1998, is a staple of the conscious hip-hop movement, focusing on contemporary issues and philosophy, particularly responding to violence and death in the rap community. The album received universal acclaim and solidified Black Star as an integral piece of rap's history.
Now, Mos Def and Talib Kweli are finally joining together to create their long-awaited second album, which will be released early next year. But until then, catching Black Star live is all we'll get—and an opportunity not to be missed.
Black Star are performing at l'Olympia on Sunday, November 13th
Doors at 19:00, show at 21:00, tickets are $59.99